Here's a small, but interesting twist in the legal battle between Uber and Waymo, which alleges the ride-hailing giant's self-driving car tech is based on a stolen design of its rival Google branch's autonomous system: Last May, Otto—the self-driving truck company purchased by Uber—quietly bought a small company that specializes in the tech it's now accused of stealing from Waymo.
Reuters broke the story this morning, and it suggests Uber may have a possible defense to rebut Waymo's theft allegations. Waymo claimed in its lawsuit that it would be impossible for Uber to develop a self-driving car system in a matter of months, were it not for the alleged theft of 14,000 files by a former Waymo employee, Anthony Levandowski, who now heads up Otto's self-driving efforts.
The small company purchased by Otto, Tyto LiDAR, brought with it tech that's needed to make autonomous cars work, like a LiDAR scanner patent it filed in 2013. Documents filed with the U.S. Patent Office show Otto acquired the technology from Tyto last May.
G/O Media may get a commission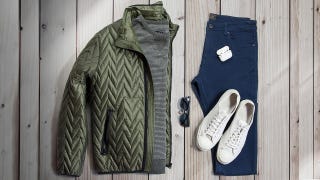 60% off
Jachs NY Fall Sale 60% Off
What does it mean? Depends. As Reuters points out, it could take years for this case to unfold, and it could become central to Uber's defense, or perhaps wind up a small footnote. Neither company offered comment to Reuters about the Tyto acquisition or the patents.
Eric Goldman, an intellectual property law professor as Silicon Valley's Santa Clara University School of Law, told the news agency that Tyto's background with LiDAR, as well as the patent, could be "irrelevant" if Waymo can successfully prove Levandowski downloaded confidential trade secrets before abruptly leaving the company for Otto.
As we reported last week, Waymo alleges in its suit that Otto designed a LiDAR circuit board that "bore a striking resemblance to — and shared several unique characteristics with — Waymo's highly confidential current-generation" board.
At the very least, the Tyto patent itself (which you can view below), outlines a detailed system to develop a LiDAR scanner. This could be an out for Uber CEO Travis Kalanick, after a tumultuous few months.