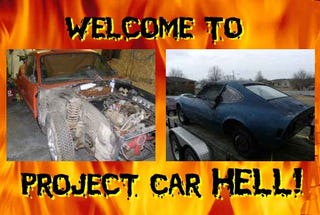 Welcome to Project Car Hell, where you choose your eternity by selecting the project that's the coolest... and the most hellish! Today we've got a pair of Missouri projects, courtesy of Schm.
Not only did Schm provide the tips for these fine- and totally easy- projects, he saved me the work of thinking up the title as well. For this, he gets a Project Car Hell Tipster T-shirt… unless he wears a size other than S, M, or L (which is all I have in stock at the moment). Times must be a-gettin' hard in Piper, Missouri, because both these incredible machines are being offered for sale by the same seller, and each is priced at a how-can-you-possibly-pass-it-by $700. That's right, just seven Benjamins and you could take 'em both home; come to think of it, we're pretty sure you could get a pretty good 2-fer-1 deal and spend two eternities in the Hell Garage!

First up is a trashed solid example of a perennial PCH favorite, the Saab Sonett. You get a fiberglass body, a Ford Taunus V4 engine, and styling that will go perfectly with the IKEA workbench in your garage. We can't tell you much about this '73 (go here if the ad disappears), because the seller is a man or woman of no few words, but it appears that you get an engine, most of the body, and at least three wheels and tires for you $700. Maybe the glass comes with the deal as well! Is there chassis rust? Is the engine frozen solid? Has a feral cat colony deposited 14,000 gallons of high-grade feline piss throughout the interior over the last couple of decades? For 700 bucks, who cares?

We'd all love to have a Sonett, but it's hard to overlook the fact that they're hella a little bit underpowered. Perhaps your manual-pop-up-headlight-equipped European sports car should have turbocharging, and is there any better way to reach that goal than by tearing the turbocharged Ford 2.3 engine and World Class T5 combo from an SVO Mustang and transplanting it into a 1973 Opel GT? Why, you'd have to pay a couple hundred bucks a huge sum for that engine/trans setup alone, and here's a 1973 Opel GT project (go here if the ad disappears) with the SVO running gear for a mere 700 bucks! The engine is scattered all over the garage disassembled, but you'll probably get a significant fraction of the stuff you'll need to make it roar again. The Opel appears to have most of its glass, might not be totally oxidized, and should provide you with a grab bag of agony challenges as you work on Ford-izing the drivetrain. And remember, get both cars and you'll be never be bored again!