Last week United Auto Workers union chairman Bill Johnson told The Detroit Free Press that a Ranger and Bronco would soon be made in Michigan. As a result, folks got all riled up over the idea of a hypothetical retro-futuristic off-roader. I think you're all going to be disappointed.
While the Ranger hasn't been with us here in America since 2012, the compact pickup truck has been going strong in just about every other country ever since. And it already has a platform-partner SUV. And it is definitely not the hardcore Jeep-style 4x4 enthusiasts have been passing optimistic renders of.
America, meet (what I think will be) your "new Ford Bronco."
Some international readers may recognize that broad-faced four door 4x4 as the Ford Everest. And that is exactly what it is.
G/O Media may get a commission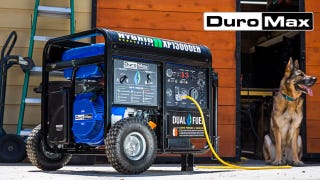 Black Friday Sale
DuroMax Generator Sale
The Australia-designed Everest is close to an Explorer in size but more truck-like in personality thanks to simplistic body-on-frame construction. Despite kind of looking like a crossover it's actually supposed to be okay off-road, and even has a terrain-response traction control system not totally unlike what we'll soon get in the 2017 Ford Raptor.
The body style as seen in these pictures was introduced in 2015 along with the current Ranger, and the family resemblance is pretty easy to assess. The Everest is effectively a crew-cab Ranger with a cap. That said, both vehicles will probably be up for a refresh by the time they "come to America" if that's really how things shake out, but they have been a bonded pair like this through a few generations now.

I guess it's not impossible to imagine that Ford would get the guts to build something wacky like the "new Bronco concept" we met in 2004. After all, the company went out on a little bit of a limb in 2009 with the F-150 Raptor and ended up building a dynasty.

But its seems far more likely the company would rather build a vehicle people would actually buy. Especially when Ford wouldn't have to start from scratch to get it.
Let's say Ford builds a true Jeep Wrangler rival. Not only would the company have to engineer a genuinely capable off-road vehicle from the ground up, which would be tough make to conform to regulatory guidelines and consumer's standards for comfort while still being legit, but its only competitor would be one of the biggest powerhouses in the U.S. auto market. (The Wrangler, of course.)

And before you posit that "nobody's tried to make a real off-roady Wrangler rival" I submit the Toyota FJ Cruiser (RIP) Nissan Xterra (RIP) and Hummer (see what I mean?)
With Jeep selling some 15,000 Wranglers a month I agree that there is an anomalous demand for charming, objectively bad vehicles.
But I do not think there are enough people who aren't buying a Wrangler because it's not a Ford Bronco combined with Wrangler people who would jump ship to justify a copycat vehicle.
And to play in this space the Bronco absolutely would have to be as close to a direct Wrangler ripoff as possible– convertible, removable doors, solid axles, the whole package or it's just going to fall into another valley of irrelevance.
Unless it's a vehicle that people actually want. Like the Everest.
This scenario makes a lot more sense from where I'm standing: the "Bronco" badge brings dad into the dealership, the fact that it's on a vehicle people can actually fit in gets the ok from mom. Or whoever does the accounting in your family.

And while the Everest is pleasant and practical, it's got just enough off-road chops for the marketing team to call it a Bronco without cringing too hard.
The current Everest has 9 inches of ground clearance, a reasonably impressive 29 degree approach, 25 degree departing, 21 degree ramp-breakover angle and over two-and-a-half feet of water-wading depth. With a diesel engine, at least. Still.
The 4WD system has a legitimate low range, electronically locking differential, hill descent control plus specific traction control settings for snow, sand and rocky terrain.
Point is, with a decent set of tires, I'm sure you could get further off-road than most people take their Wranglers anyway.
I can't see a better cost to likely-result situation than using the Everest as the American-market Bronco. Especially if the Ranger is supposed to be coming from the same facility. But what do I know? I'm just a nerd making suggestions for billion-dollar corporations from a borrowed computer on my couch.
But seriously, I bet the Bronco will be the Everest. Besides, we've already spotted the things stateside!