Prompted largely by China, the world's largest car market, automakers are going big on electric vehicles in the next few years. But besides Tesla, they've offered little more than a collective shrug when asked where Americans are supposed to charge these things. Now at least one more automaker, Porsche, plans to step up with at least 500 fast chargers across the U.S. by the end of next year.
Porsche Cars North America CEO Klaus Zellmer gave the scoop to Automotive News today, and he said those charging stations will be at Porsche dealerships and across the highways, much like Tesla's Supercharger network. It's all aimed at relieving the range anxiety many Americans still have when it comes to EVs, when we expect all our cars to be able to do long trips at the drop of a hat, and to do all the #lifestyle #brand stuff that Porsche puts into its own ads:
The 800-volt fast chargers will help alleviate any range anxiety that potential buyers of Porsche EVs may feel, Zellmer said.

"If you want to buy that car, you want to know what happens if I go skiing and go further than 300 miles," Zellmer told Automotive News. "What do I do? So we need to have answers for that."

Zellmer called the cars' range a psychological barrier, saying 80 to 90 percent of EV owners will charge them at home or work. But a cross-country fast-charging network is a necessary solution to concerns about the "unlikely instances" when driving distances will exceed the vehicles' 300-mile-plus range, he said.
The chargers will launch by the time the Mission E Concept-based EVs finally hit the roads by the end of 2019. Zellmer also said the stations will get the cars to 80 percent in less than 20 minutes, enough for about 250 miles of driving. Porsche's also requiring each of its 189 dealerships in the U.S. to eat the costs of installations, something said to be in the six figures.
One thing these chargers won't be is free, which we learned in recent weeks. "You can not run things like this, you have to earn money from these services," Lutz Meschke, deputy chairman of Porsche's executive board, said at the time. Imagine that! A car company trying to make money.
G/O Media may get a commission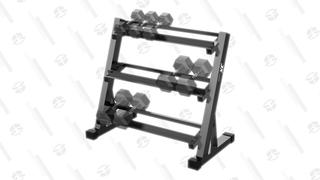 20% Off
JX Fitness Dumbbell Rack
Gains but tidy
Has a three-tier design to help store more weights more conveniently, can safely support up to 1000lbs of weight, which should be enough for most people, has a triangle base for stability, and also features anti-scratch feet which is great if you've built your own studio or workout in your garage.
Maybe dealers will gripe about having to pay for and install these stations, but I say it's a great move by Porsche. Say what you want about Tesla—and there's a lot you can say—it deserves a lot of credit for actually bothering to invest in EV infrastructure. It's great to see other automakers getting in on this too if they want to be successful at selling EVs.