Once upon a time, Porsche was adamant as hell that it didn't care about Nürburgring lap times, saying that a car that scores an awesome time on the Nordschleife will probably be "a dog on the street and everywhere else." That was in early 2017. Evidently Porsche does care, having later scored a road car record with the GT2 RS and an all-time record with the 919 Hybrid Evo. Now it's back with another big win, but let's be very clear what this car was.
The Ford Taurus Is Reborn — But Only For the Middle East
Porsche announced today that a car called the 911 GT2 RS MR, which has 700 horsepower, did the 'Ring thing in a claimed record 6 minutes and 40.3 seconds. That is incredibly, objectively fast, even if it's also true that we are probably a few years past the hysteria of 'Ring times actually meaning something.
But this was no ordinary GT2 RS, in as much as any GT2 RSis ordinary: the MR stands for Manthey-Racing, the 'Ring-based Porsche racing team. Porsche says the car "had been especially set up for the 'Nordschleife' by Porsche engineers and Manthey-Racing experts." The chassis and aerodynamics were modified, and specifically set up by Manthey-Racing for this endeavor. The lap was achieved in "autumnal but dry conditions."

See the end result here:
Now, that same kit can be ordered from Manthey-Racing for your street legal GT2 RS—and why wouldn't you want that—and the only modification the record car had from that was the racing bucket seat for safety reasons.
G/O Media may get a commission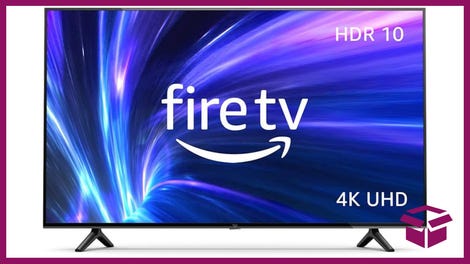 42% Off
Amazon Fire TV 50" 4K Smart TV
And, uh, yeah, the racing engineers on hand to optimize every aspect of the vehicle's performance.
So to me, while I cannot deny the GT2 RS's incredible performance, this seems like a bit of a cop-out. It may be a street legal car, technically, but the record is for a car that's far from stock. You too, Porsche must be saying, can achieve the ultimate Nürburgring glory, so long as an actual racing team is on-hand to modify and enhance what your car can do!
Again, does any of this truly matter? I'd wager that it doesn't, and that it barely translates into any bragging rights for Porsche here, if any. At least the video is cool to watch. There's that.