The 996-generation Porsche 911 was a break from tradition. Not air-cooled, not overbuilt, not right, at least if you listen to the hardcore Porsche enthusiasts. And the car's original brochure from the end of the '90s reads like Porsche knew that a backlash was coming. They knew it.

"Never before has a Porsche incorporated so many changes," the brochure uploaded by Porsche site Coochas pleads. "Never before has a Porsche been worthier of the name."

You can just tell. You know everyone at that company was aware that people would loathe this car. Detest it. Hate its guts. Fear it, even.

G/O Media may get a commission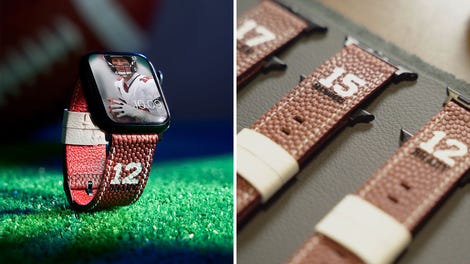 Official NFL PRODUCTS
Official NFL Apple Watch Bands
And Porsche really wanted you to think that this car had good guts. Great guts. More power, more economy, more aerodynamics, more of everything! More is good, right guys? Right?
Yet Porsche superfans would hate the 996 for losing its forever-car build quality and for ditching its thrummy, old-school, basic air-cooling for just-like-everyone-else water-cooled engines. Their beloved Porsche wasn't different like it used to be.

Again, look at the quotes Porsche used to highlight how, the new 996 was water-cooled and less unique than before but everything was fine it's all fine you love this now yes, you love this.

This is how Porsche started talking about the 996! It already sounds like an apology.

Yes, yes, we all believe you.

Haha, you're not mad that we're ditching our iconic air-cooling, right? We're not mad! You should also be not mad.

See, our tech is just like that one race car you all love! Please, stop throwing things at us.

Failing anything else, at least the Porsche was eco-friendly? It was the '90s, this was the best Porsche could do.

My favorite part of all of this is the design section. Porsche fans despised how this car looked, and how it looked different from the always-the-same older air-cooled 911s. Porsche was begging here.

No part was more hated than the headlights, which killed the car's old single-round-light-per-side look it had since its inception. The fried egg headlights have aged surprisingly well, though it's funny how hard Porsche was trying to sell people on them.
A close second to the headlights was the interior, which most of even the most lax Porsche fans still think is gross. I don't mind the look, but Porsche tried as hard as it could to dodge the subject entirely. Hey! The key is still on the left! Ignore the cheap plastics everywhere else!

I've actually been lucky enough to put a fair number of miles on a 996-generation Porsche, a manual, rear-wheel-drive fairly base car. What a joy! The car drives wonderfully, it looks distinctive and even the loathed interior is kind of fun with all of its ovoid shapes. It is a far better 911 than most people give it credit for, and very possibly a future classic. It does not deserve all the hate.
The car world shouldn't be mad at the 996. Read through the full "Evolution 911" brochure uploaded on Coochas here and you'll find yourself agreeing.