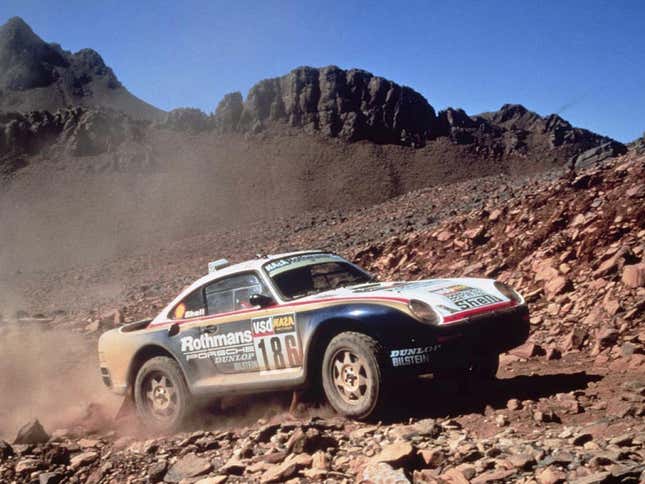 Porsche's 959 production car was arguably the most advanced vehicle produced in the 1980s. Before the production 959, though, there was the 959 Paris-Dakar, and now the Porsche Museum is undertaking a unique restoration of the second-place car, and it's taking us along for the ride.
What makes this restoration unique? In this case, it's the idea that you mechanically restore the car as much as possible to ensure that the vehicle remains functional but attempt to preserve as much originality and patina as possible. That patina is critical on cars like the 959 Paris-Dakar since it now looks just the same as it did when it crossed the finish line in 1986.
In the first video in the series, Porsche Museum workshop boss Kuno Werner leads us through the initial teardown and inspection of the car and highlights some of the things that make the racecar unique and different from the road car that would come after.
The second video shows the first separation of the body and running gear since the race in 1986 and goes into the plans for restoring the driveline.
In the third video, we see what thousands of hard miles at full speed have done to the engine and gearbox of the 959, and it turns out that the cars held up remarkably well. Also interesting is the use of a locked differential for the rear of the car. Porsche used a spool rear axle on its prototype race cars like the 962C.
In the fourth and most recent video, we see the work that's being done on the body, from removing and inspecting suspension components with x-ray and fluxing tech to the careful repair and reinforcement of damaged body panels. The combination of attention to detail, meticulous engineering and general 80s racecar "just make it work" jank is incredible.
This project is a pretty exciting one, and it's always awesome to see manufacturers go to these lengths to keep their classic fleets of road and racecars operable so that future generations can get the full experience of seeing, hearing, and smelling these cars run.