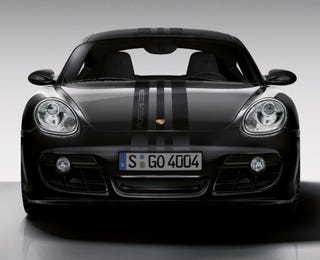 How better to promote the design wing of your carbuilding concern but with a special edition version of one of your cars? It's simple enough for Porsche Design, which is working up its parent's Cayman S for a limited run of 777 cars that show off its product design skills. It's the Cayman S Porsche Design Edition 1. The mechanicals are stock, but the exterior combines matte and glossy finishes (see stripes) and its interior has more leather and Alcantara than a Portuguese nightclub. But wait! There's more! Buyers will also get a case that includes a quartz chronograph, a pocket knife, a ballpoint pen, sunglasses and a
key ring. See it in Frankfurt next month, before you'll see it again soon.
Press Release:
Porsche Design presents Edition 1 at the IAA

Stuttgart. On occasion of the International Frankfurt Motor Show (IAA), the Porsche
Design Group and the Dr. Ing. h.c. F. Porsche AG proudly present the Porsche
Design Edition 1, a limited edition of 777 cars that consists of a black special-
design Porsche Cayman S and a special case containing a selection of Porsche
Design products. As homage to the 'Chronograph 1', which Ferdinand Alexander
Porsche designed 35 years ago, all products are coloured black.

The special-design Cayman S Porsche Design Edition 1 is based on the 3.4-litre
six-cylinder flat engine Cayman S with an output of 295 bhp (217 kW) at 6,250
revolutions per minute. The exterior eye-catcher of the special-design edition is the
combination of glossy and matte surfaces, while the interior has a noble and at the
same time sporty appeal thanks to the black leather/Alcantara combination that the
designers chose. The special case that comes with the special-design Cayman S
contains a quartz chronograph, a pocket knife, a ballpoint pen, sunglasses and a
key ring.

The sports car and special case will be on sale in select Porsche Centres around
the world as of November 2007, while in the US, the special edition will be available
from January 2008 onwards. On top of this collection, there will be further Edition 1
products that can be purchased on their own from Porsche Design Stores,
specialist dealers and select Porsche Centres. These include, among other things,
a jacket, a belt and a variety of accessories made of leather, titanium, steel and
aluminium.