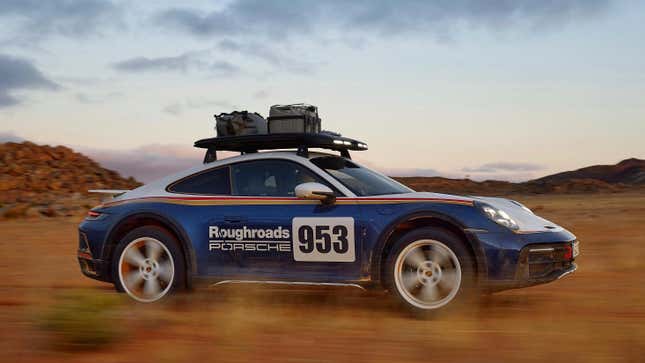 After watching Leh Keen and other companies such as Singer make a lot of money building safari 911s, Porsche finally decided it would like some of that money for itself. So late last year, it introduced the off-road-focused 2023 Porsche 911 Dakar. But with a price of $223,450 and plans to only build 2,500 examples, the 911 Dakar is going to be extremely hard to get. The good news is, it sounds like Porsche has plans to change that.
In an interview with Car Magazine, Porsche CEO Oliver Blume talked about a number of topics, including production numbers, electrification, and synthetic fuel. Those are important things for a business and CEO, but they're also not exactly exciting. After all, what automaker hasn't been impacted by the chip shortage?
But the topic of the 911 Dakar also came up, and he said several things that have our attention more than his comments about Porsche's positioning within Volkswagen Group. When asked about the decision to put the 911 Dakar into production, Blume said it largely came down to customer demand and also the success of Porsche's heritage models.
Everything we do is about listening to our customers. We have customers in different regions around the world. There was a need to bring a car you can drive off-road and, thinking of our product strategy, we have the 911 base, stretching from the entry model to the Turbo S. Then we have the very sporty ones, the GT models. We also have the heritage pillar – and there the idea came from the sports industry. We saw the sports shoes from the 1970s and 80s and thought that could work for Porsche too, so we brought the 50th edition and the 60th edition with the Sport Classic. We are considering bringing 1970s and 80s-inspired models too…

The most interesting part, though, might be Blume's claim that the off-road segment is now a "third pillar" alongside its GT and heritage models. From the sound of it, there's a good chance we'll see several Dakar-inspired models join the lineup:
Very few global brands are able to bring these successful items from the past and connect them with modern technology. But Porsche can. Then we thought "Why not a third pillar, besides sporty GT and heritage models? Why not off-road, too?" When we were thinking about how to position the product and asking would it be feasible from a technical perspective, it was a stunning process over the past few years. But testing the prototypes, I was so convinced – it had such a good off-road ability. That was the clear point when I decided to go for it. The GT models like the GT2 RS are very focused on motorsport; they are very convincing with their Nordschleife times. The heritage models have a big product content. And now the 911 Dakar has a very high technical level.

With all that said, he didn't officially announce a specific plan for a Cayenne Dakar. But based on the way he answered, we wouldn't be surprised to see something like that revealed in the near future. At least if the 911 Dakar sells out. As he told Car, "Like in the heritage versions, we will start with limited editions. Now we will see how the market success of the Dakar pans out. And then maybe there will be more to come. The door is now open..."
As big fans of the 911 Dakar, at least in theory, we would very much like it if that door remained open and let more cool safari Porsches through. So if you have the means and the connections, we humbly ask that you order a 911 Dakar if you haven't already. You'd be helping out the whole automotive community, so maybe think of it as an act of charity. Not the kind of charity that you can write off your taxes but charity nonetheless.