Looks like even the Porsche 918 Spyder isn't immune to egregious factory errors: Porsche has issued yet another recall of the hybrid hypercar and the mistake comes down to the nuts and bolts of the thing.

No, really—it actually does come down to a couple of screws. Porsche issued this official statement regarding the matter:
The original parts catalog for the 918 Spyder inadvertently transposed the locations for the screws which respectively secure the seat belt mount and the belt reel mount. These screws are one-time-use only and are not the same. We cannot rule out the possibility that, due to the mistake in the catalog, technicians who had to work on those components might have been led to install the wrong screw in the wrong location. In that event, the function of the seat belt system could possibly be impaired in the event of an accident. To prevent this risk, the fastening screws on the seat belt mount and on the belt reel on all 918 Spyder vehicles will be checked. Depending upon the result of the check, Porsche might replace the screws on some vehicles. In an abundance of caution, Porsche is treating this as a safety-related recall and will make contact with all owners. The mistake in the parts catalog already has been corrected.
We applaud Porsche for its foresight and for trying to be safe with the matter.
On the other hand, what was Porsche thinking? Aren't these the guys who pride themselves on their so-called Germanic "perfection"? Because needing to replace a couple of seat belt screws is COMPLETELY AND TOTALLY UNACCEPTABLE.
G/O Media may get a commission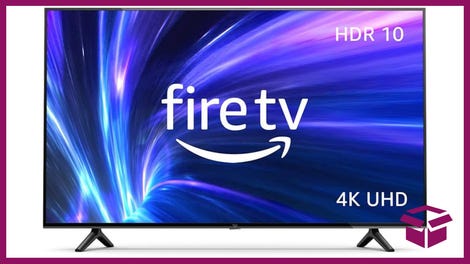 42% Off
Amazon Fire TV 50" 4K Smart TV
It's alright, Porsche. We forgive you. And please don't ever stop being you.