All evidence indicates that it was a freak accident, but the collision between a 2008 Lamborghini Murcielago P640 and a 2013 Nissan GT-R in Lakeland, Fla. yesterday has the rumormill going. Was it a race? Police say no.
Regardless of what caused the wreck, a man and a woman — both 24 — are dead and a 43-year-old man is in critical condition with life-threatening injuries.
Here's what we know so far:
The Lakeland Police say that Tiffany Beene was driving the Lambo west on University Boulevard, near what will be Florida Polytechnic University's campus once the school opens. The car reportedly jumped the median and crossed into the eastbound lane, crashing into a GT-R driven by Chi Yan Chan. Beene and her passenger, Samuel Hampton, were the ones killed, while Chan ended up injured. Chan's passenger, Tan P. Phan, 22, was treated for minor injuries and released from the hospital.
G/O Media may get a commission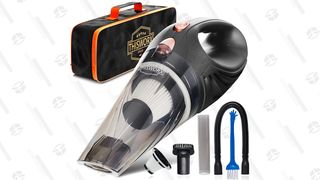 Save 50%
ThisWorx Car Vacuum Cleaner
But when one really fast car randomly hits another really fast car, some speculation about racing is inevitable. Here's what Mark(study), a commenter on FerrariChat, had to say:
From the small bits of news floating around the web... it wasn't her car, its been suggested that she owned a high performance Audi.

When I first heard the news, I was trying to figure out how a Lambo hit a random car... and it just happened to be a GT-R?

I'm guessing they were running together on a newly built road that is still pretty much empty. Maybe the GT-R was turning around to come back for another run when the guest driver in the Lambo lost control?
But Phan told 13 News that there was no racing. His claim has been backed up by Lakeland Police Department Traffic Homicide Investigator Mike Catalano, who also maintains that there was no racing involved in the accident.
But the investigation isn't done yet, so perhaps Catalano will uncover another couple of clues as to how the tragedy happened. (Hat tip to Justin!)
Photo credit: Lakeland Police Department; Facebook