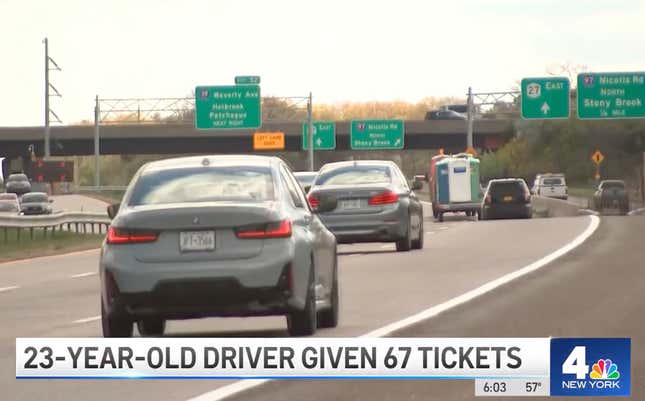 Some folks like to treat driving like their aiming for a high score, whether it be speed, sound decibels, or license suspensions. One woman in Long Island allegedly has a lot of us beat at the tender age of only 23 years old.

In case you missed it:
Suffolk County Police pulled over Janelda Camille around 2 a.m. Tuesday morning on the Sunrise Highway in Patchogue, New York for allegedly driving 95 miles per hour. That's when police discovered Camille had 65 license suspensions on 12 separate dates, according to NBC New York:
"Officers pulled her over. They ask her for her license. She doesn't have it," said Suffolk County Police Commissioner Rodney Harrison — adding that she didn't have it because it had been suspended more than five dozen times. "I'm just glad we were able to stop this individual before she ended up hurting somebody of hurting herself."

The driver never answered any of the summonses she had previously been given, and was forced to surrender her license in February. But that didn't stop her from getting behind the wheel.

Most of these suspensions are in regards to not answering speeding tickets, thought a 2021 crash is also included in the mix. Camille is facing jail time over charges of aggravated unlicensed operation of a motor vehicle in the first degree. She also received a summons for speeding.

It's terrifyingly common for bad drivers to hold on to their license and keep driving and that trend can be chalked up to a lack of inter-agency communication and an overreliance on traffic cameras. Slate argued after a horrifying crash occurred in Washington D.C. in March involving a car that wracked up 44 tickets in 10 months.
The police commissioner told CBS that the DMV does not communicate with law enforcement about drivers with multiple suspensions which seems like a heck of an oversight. Camille just happened to get caught before she could seriously hurt herself or anyone else. Be careful out there, friends.