Everyone seems to be getting this bit of historical information wrong— including Jeep itself—and it's time to just clear it up once and for all: a CJ is not a Wrangler.
Jeep just showed us its beautiful CJ66 SEMA concept, and with that debut came a press release containing a sentence that made me spit my coffee all over my computer and bang with rage on the now-smoking keyboard:

Take a Jeep Wrangler TJ frame, hang a 1966 Jeep Wrangler CJ universal Tuxedo Park body on it...

This must stop.
There is no such thing as a 1966 Jeep Wrangler CJ. In fact, there was never a Wrangler at any point before 1987 unless you're talking about jeans, Goodyear tires, or trim packages on Canadian-market Chevy and GMC trucks.
G/O Media may get a commission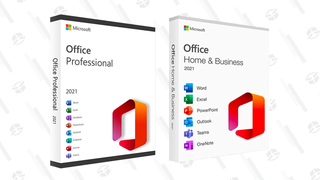 95% off
Cyber Monday - Lowest Price Ever - Microsoft Office Lifetime License
But it's an easy mistake to make. Here's an apparent tongue-slip from one of the best sources for Jeep info, head of Jeep design Mark Allen:
The operative quote:

... very reminiscent of the 1941 Wrangler.

So let's make this clear, since Jeep itself is getting it wrong, and thereby confusing the rest of the world: this was the first Jeep Wrangler ever:
It's a 1987 (called the YJ in the Canadian market because of the conflict with Chevy/GMC), and that badge on the driver's side rear quarter panel is the first time this world ever saw the word "Wrangler" on a Jeep.

Any evolution of the original 1946 Civilian "Universal Jeep" built before 1987 was a CJ, and any after model-year 1986 is called a Wrangler (except in Canada and a few other markets). It's that simple.
In 1997, the second-generation Wrangler came out, the TJ:
And then, in 2007, came the latest Wrangler, the JK:

That's it; there have only been three generations of Wrangler: YJ, TJ (which had a long-wheelbase model that many call the "LJ") and JK (in two and four-door guise).

I'm not sure why Jeep keeps calling the old CJs "Wranglers." Are they doing it intentionally so people connect those badass old Universal Jeeps of yore to the modern product that you can pick up today at your local friendly Jeep dealer? Who knows.
Either way, I'm here to make sure none of our fine readers ever make this error. And if they do, they'd better not make it in my presence, or god help them.