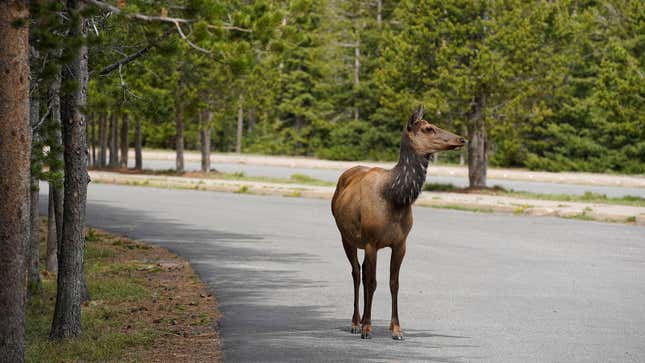 You know that saying, "Take only pictures, leave only footprints?" It's corny, but is a pretty good rule to follow when you're exploring the unadulterated wilderness of America's national parks. However, the old adage is not as clear of a guidance for everyone as officials at Yellowstone National Park have been forced to ask motorists to please look after its wildlife, following a spate of incidents that left animals, including bears, bison and elk, dead.
This NYC Garage Takes Vanlife To The Next Level | Jalopnik Visits
The call came after a number of dangerous human/wildlife interactions, including one that saw tourists at the park load a baby elk into the back of their car. The travelers then took the animal to a police station where, once out of the car, the elk ran off into the woods. The animal's condition is now unknown and the incident is under investigation.
Apart from the obvious question about how you would get an elk into the back of your car, I can't help but wonder why you would wrestle an elk into the back of your car? The whole point of parks like Yellowstone is to preserve the wilderness of vast areas of America, so things inside these parks should be left as they are.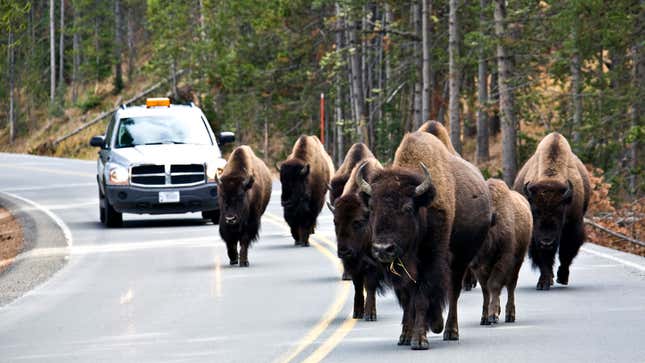 Sadly, the elk incident was just one of a handful of events that forced officials to speak out. According to CNN , the park has faced a series of collisions between cars and wildlife in recent weeks. The National Park Service shared a little more detail:
Black bears
On May 28 at about 5 p.m., an adult male black bear was struck and killed by a vehicle near milepost 14 on U.S. Highway 191 in the northwestern section of the park. Later that same evening, a second adult male black bear was struck and killed by a vehicle at milepost 29 on U.S. Highway 191. Both bears were dark chocolate brown in color.

In recent days, one elk and one bison were hit by separate vehicles.

...

Bison
On May 31, a Hawaii man pleaded guilty to intentionally disturbing wildlife in the park. The man grabbed a struggling newborn bison calf and pushed it up from the river and onto the roadway in the northeastern section of the park. The incident resulted in the death of the calf.

There are a range of other recent bison incidents that the park is investigating.

Last year, there were two known incidents of visitors getting too close to bison resulting in the animals responding to the perceived threat by goring the individuals. Bison are unpredictable and can run three times faster than humans.
It goes without saying that when you enter a national park you should be driving cautiously and safely. In these places, you're encroaching on the land of these animals, so you should be prepared to get the heck out of their way when they cross onto the roads.
What's more, and I can't believe we have to say this, you definitely should not be thinking about putting wild animals in the back of your car. Go take a picture, buy a hoodie or eat an ice cream or something instead.