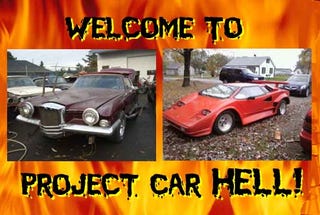 Welcome to Project Car Hell, where you choose your eternity by selecting the project that's the coolest... and the most hellish! The sporty Simca beat up on the magnificent Humber in our last Choose Your Eternity poll, meaning France gets the PCH Superpower trophy… once it's out of the shop, that is. Today we're going to look at the sort of cars that desperate motivated sellers often refer to as "head turners." You know, it's weird and sort of cool, but also sort of horrible… and wouldn't it be fun to own one?


The Basement Lambo was great, but who's got that kind of time? You might not want a Fiero-based Fieroborghini, but how about something in between? Say, this tube-framed, turbo Buick V6-powered Lamborghini Countach replica (go here if the ad disappears), which is priced at a low, low, super-low $8,000!

Now, part of the reason this car is so cheap might be that the general pall of loserness cast by the sword-sliced Muncie home invaders (see photo, above) has depressed all values in the Indianapolis area, but don't let that stop you! This thing has an '87 Buick Grand National turbo V6 installed, though it "needs the turbo piped," and there's nothing wrong with the body that "a small amount of bondo cant fix."

That Backyard Lambo would be fast, once you solved all the turbo bugs and cranked up the boost, but it's still an imitation of a more expensive machine. Get yourself a Stutz Blackhawk, however, and you'll have a genuine original, a car designed from the outset to knock 'em dead at the casinos of Pahrump Las Vegas! Don't listen to those low-rolling Keno players who moan about the Blackhawk being based on a Pontiac Grand Prix, because that would be a slap in the faces of owners such as Elvis, Frank Sinatra, Evel Knieval, and Lucille Ball! You'd think it would be impossible, totally out of the realm of possibility, to purchase a project Blackhawk at a price even close to that of the Backyard Lambo's, but we've tracked down this 1972 Stutz Blackhawk (go here if the ad disappears). Yes, you're seeing that price correctly: $7,500! There's some roughness throughout the car around the edges, but it's a runner: "car runs but has not been on the road for more than 10 years." We're assuming that means the engine makes noise and/or smoke, but don't fret about that- the good ol' Pontiac drivetrain hardware is cheap and easy to find. The interior stuff might be a little more difficult, but you can just Grand Prix-ize it and the ghost of Lucille Ball might not haunt you as a result. The missing emblems and trim components might be tougher to find, but a real Blackhawk owner can overcome all adversity!