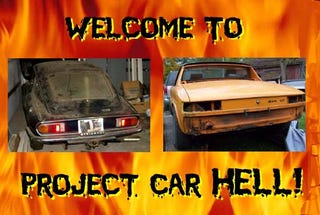 It looks like Italy has been knocked off the PCH Superpower throne by the UK, according to the results of yesterday's Choose Your Eternity poll. That means that PCH SuperGigaPower France awaits the chance to take on its historical PCH rival from across the Channel. But first, let's see how Britain fares against a rival that, though falling somewhat short of true PCH Superpower status due to the stubborn reliability of so many of its vehicles, still puts forward some strong Hell Project competition. And, just to make things interesting, let's get our contestants from Canada, where an iron atom never found an oxygen atom it didn't want to establish a caring, lifelong relationship with. We can thank HoserDave for these tips, and of course a Project Car Hell Tipster T-shirt will soon be thrown into a dogsled and mushed all the way up to his igloo.


We had a Triumph GT6 just last week, but somehow that wasn't enough British Leyland Hell! Plus it sat for 23 years, which may have been just a little too challenging. So how about a GT6 that's only been sitting for 20 years? For a mere $2,000 (Canadian), this 1972 Triumph GT6 (which its seller describes as a "Good project car right out of Austin Powers the spy who shagged me") could fill your garage with dashed hopes and crushed dreams of roaring about town in your very own six-cylinder British sports car. The seller claims the body is in good shape, but there's some scary-looking damage around the windshield frame. The "Engine rebuilt before storing in 1988 long story," and we're betting that long story has plenty of twists and turns and confusing epilogues. Would it be sacrilege to suggest dropping a 2JZ-GTE in this thing?

Call it a Volkswagen, call it a Porsche, but a 914 by any name has great mid-engined hoonage potential. You can keep things all Porsche in the engine compartment, maybe even make it a homegrown 914-6, or you can stuff a wild Subaru boxer in there for some oversteeringly dangerous fun. The great thing about the 914 is that you won't have a posse of Porsche purists ready to string you up if you feel like, say, making a 914amino out of one. So head on up to London (no, the other London), where $2,500 Canadian dollars will buy you this 1973 Porsche 914. The seller states "project car lost interest," but you know you won't lose interest, right? Especially not with "all parts are here for it some new still in the package" and "new floors welded in already." Maybe it's just a matter of bolting on all the parts and roaring away! Or maybe not... actually, almost certainly not.


Gawker Media polls require Javascript; if you're viewing this in an RSS reader, click through to view in your Javascript-enabled web browser.