Well, that didn't take a long. The inevitable Rob Ford joke at the IndyCar Honda Toronto race this weekend, I mean.
A deluge of rain in Toronto today led to a delay in the afternoon's race, and it also got the better of this Honda Accord pace car driver. He lost it in a turn and bumped the wall with the car's rear bumper.
"You didn't give the keys to Mayor Ford, did you?" Bob Varsha says to Paul Tracy, who took hizzoner the mayor out in that same car earlier in the day.
Then there's a bit of an awkward beat before another makes a crack about a passenger going for a handbrake.
G/O Media may get a commission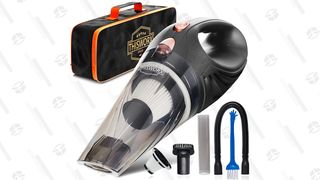 Save 50%
ThisWorx Car Vacuum Cleaner
It's funny because Rob Ford is the mayor of a major North American city, and also a crack cocaine user.
Hat tip to Ryan Terpstra for the tip and Tim Burke for the video!