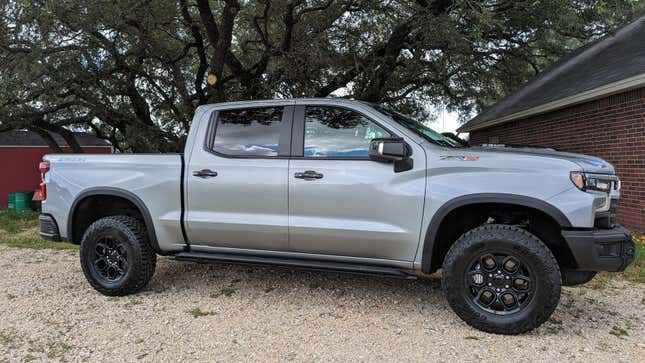 While I may not have been born and raised in Texas, living here for almost a decade has instilled in me a deep and undying love of big, beefy pickup trucks. This week, I have one of the biggest and beefiest off-roading trucks on the market: the 2023 Chevrolet Silverado ZR2 Bison. I'm taking it out on some overlanding trails near Fredericksburg, Texas — and I want to know what you want to know.
You can check out the full, impressive list of specs on Chevy's website, but the machine has been built in collaboration with American Expedition Vehicles, and the whole goal is to make sure you're hitting the trail in the most capable truck you can find. Some of the key off-roading, Bison-specific specs include:
Stamped steel bumpers that have been angled to improve approach and departure angles
Winch-capable front bumper
Five press-hardened steel underbody skid plates that protect the front and rear differentials, transfer case, and fuel tank
Steel rocker panel protection
33-inch Goodyear Wrangler Territory MT tires
Exclusive badging
My test model is outfitted with the 6.2-liter V8 that makes 420 horsepower and 495 lb-ft of torque. It's mated to a 1o-speed transmission, and I'll also be able to take advantage of the ZR2's Terrain Mode, which basically just turns on one-pedal driving to creep over rocks with ease.
Since I'm a solo driver, I've opted for an overlanding adventure rather than any hardcore off-roading. I'm confident in my ability to creep over some obstacles on my own, but I wouldn't dream of pushing myself beyond my skillset without a professional nearby. (And yes, I'll also be driving this bad boy on country roads, city streets, and multiple highways; we all know that's where most pickups spend their time, anyway.)
I'm also excited to test this machine from the "I am a short-ass human who can't even reach 75 percent of her house's cupboard space" perspective. Any time I have a truck delivered, I generally stand by the front end to see how I stack up, and my eyes are just about level with the Chevy badge. I haven't had a chance to drive it yet, but I'm looking forward to rappelling into the front seat like an extreme terrain rock climber.