Tomorrow, Raphael Orlove and I will attempt to do the... well, not impossible, but tricky and slow and cold: we're gonna see if we can drive from Seattle to New York City in this lovely 1970 BMW 2500. Got any old car road trip tips? We'd love to hear them.
As I wrote last week, our friend Clay bought the BMW from Road & Track writer Sam Smith, but had no way of getting it to the East Coast where he lives right away. So Raphael Orlove and I stepped up, thinking it would make for some good stories and videos, and we're gonna get it as far as we can get it.
I'm happy to report that thanks to some Jalopnik readers, the car's new owner Clay and his friends, a ton of folks in the vintage BMW community and some amazing strangers, the 2500 is in even better shape than when I wrote about it last week. (One hero, Martin Maggio, has even very kindly agreed to drive us from the airport to its location outside Seattle.)
Now, the fuel pump comes on with the key, as God intended. The ignition miss issue has been sorted. The car runs smoothly and strongly. We may just pull this off.
G/O Media may get a commission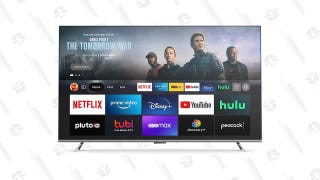 Save 46%
Fire TV 55" Omni Series 4K UHD Smart TV
But it's readily apparent that driving an old four-speed manual recovering clunker is a very different proposition than driving a modern car with semi-autonomous cruise control, a suite of safety systems and 300 horsepower or more. It won't be easy. We'll fix the breakdowns as we can, but we may hit our limits.
That's why we have a kit from Clay and pals of Old Car Stuff, just in case we face any issues. Here's what we have so far:
Fuses

Fire Extinguisher

Jumper Cables

Wrenches

Sockets

Screwdrivers

Zip Ties

Wire Cutters/Crimpers

Spare Points/Condenser

Starter fluid
Spare water pump
Electrical tape
And here's some stuff I plan on picking up the day of:
Oil

A gas can

Coolant

Blanket

Hazard triangles

Hose clamps

A good flashlight

Fix-a-flat

Spare keys

Carb cleaner

And then you can't forget the Standard Jalopnik Road Kit, issued to every writer as part of the onboarding:
38 uncooked hotdogs

Enough ketchup to survive on for three days

Mother! on Blu-Ray

Shurikens

The owner's manual to a 1990 Infiniti Q45 just in case

15 copies of Boris Johnson's autobiography, something to burn if it gets cold

Russian-English dictionary

A gallon of holy water

The essentials, really.
Our current plan is to leave the Seattle area then head east to Missoula, then Bismarck, to Minneapolis and then Detroit, and then finally on home to New York. A ton of folks have offered help along the way, and we are eternally grateful to you all.
So what do you think of our supply list? Anything we're missing? Any old car road trip tips we should bear in mind? And what's the going rate on a Greyhound Bus ticket from Missoula to New York City these days?