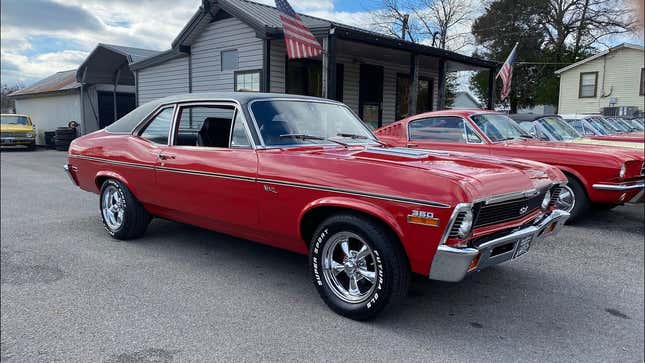 Do you want to read a story that's going to make you really mad on someone else's behalf? Because you're about to read a story that's going to make you really mad on someone else's behalf. And if you don't like law enforcement and the Department of Motor Vehicles, you're in for a great hate read because they both really messed up here. Everyone messed up except the woman who was just trying to get back her stolen Chevrolet Nova SS.
Oregon Live recently published the story of Cristin Elliott, an Oregon woman who spent 13 years trying to get her 1971 Nova SS back. Back in September 2010, she parked it in front of a friend's house before checking herself into a residential drug and alcohol treatment facility. Two months later, the car disappeared.
When she got out, she started looking for her car, checking car listings in the hopes that it would show up. And in 2019, it finally did. She called the police to report that she'd found her stolen car, and she finally got it back. Except it only took another four years to make that happen.
The guy who was selling her car reportedly thought he'd bought it legitimately. The person he bought it from said he'd lost the car's title during the 10 years it sat in storage. But they were able to get a new title from the DMV, so that wasn't immediately a red flag. You'd think the DMV would have caught that the car was stolen, but no. Apparently, Oregon's DMV purges its stolen car database every few years, so after 2015, Elliott's car was no longer in the system.
"The records are purged, and it's a problem and it's not being addressed," allowing thieves to easily rip off cars and remain undetected for years, Dana MacDonald, Northwest regional director of the National Insurance Crime Bureau, told Oregon Live.
Police agencies reportedly get notifications when the state plans to purge its stolen car database and are supposed to let the state know if any cars haven't been recovered yet so they can stay in the system. But as you can imagine, that's not exactly a reliable way of keeping track of stolen cars. And at least in Elliot's case, the cops didn't follow through, allowing a stolen car to not just be sold but be given a new title.
But the DMV messed up, too, by accepting shoddy paperwork that never should have been accepted in the first place. "If the transaction had come to me for review, I would have required a new possessory lien form because it was not dated at the bottom," a DMV employee reportedly told a detective.
It's not just that there wasn't a proper date, either. The DMV didn't scan any of the records that it was supposed to get from the owner documenting the previous owner, how he obtained the car, and all the other records you're supposed to have before you can get a new title.
Eventually, the original seller was arrested, but no justice was actually served. A month after the arrest, a judge dismissed the charges because a public defender wasn't available. And since the statute of limitations had passed, the charges couldn't be refiled.
Elliott did eventually get her car back, so this story does sort of have a happy ending. But there's so much more to it that you should definitely read the entire thing. It's almost hard to believe how many people dropped the ball here, but at least Elliott will soon be able to drive her Nova SS again after 13 long years.