Driver Gunnar Jeannette is one of the luckiest dudes in the world. As a professional driver and the son of famed Porsche restorer Kevin Jeannette, he has access to toys most of us only dream about. Here's a delightfully diverse collection of his onboard laps assembled for our enjoyment.
See inside the cockpit of an immaculate flame-belching Porsche 911 RSR as it shares track with a heavily modified Boss 302 and other box-flared vintage racers of its era. Watch a Lotus aerodynamic fin flex as air moves over it. Hear the turbo spool in the Rothmans Porsche completely overwhelm any other sounds in the cockpit. See prototype racers cut through track space at some speed beyond mere plaid, like the speed of the McNish family tartan.
Vintage racing is one of my favorite genres of motorsport because of the opportunity to see childhood heroes and other dream cars in action, live and in person. If we can't have an RS Spyder in our living room, this video is the next best thing.
So, enjoy this compilation of both vintage and modern metal as well a fantastic look at many famous circuits around the world, including Laguna Seca, Watkins Glen and Circuit de la Sarthe.
G/O Media may get a commission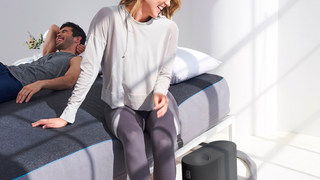 Eight Sleep Pod Cover
(H/T Ryan/Road & Track)