The best thing about any van is also the most basic thing: it's a room on wheels. If you're the sort of rich guy who gets driven around everywhere, why would you bother with an extended-wheelbase luxury sedan when you could have a whole luxury room? That's the question the Transit Skyliner concept answers.
The Skyliner certainly isn't the first bespoke-interior luxury van around — and, like all of these things, it's described as a "private jet on wheels." They always use the private jet analogy with conversion vans like this, and while I get why, I'm not so sure it's apt. Because, in many ways, you can have an even better interior in a van than in a private jet.
There's less weight constraints, there can be a good bit more and less tube-like room, and you can potentially do more with the interior of a van simply because it doesn't have to fly. Galpin Auto Sports seems to have taken advantage of this mobile room concept and made something pretty striking, if, you know, a bit ridiculous.
G/O Media may get a commission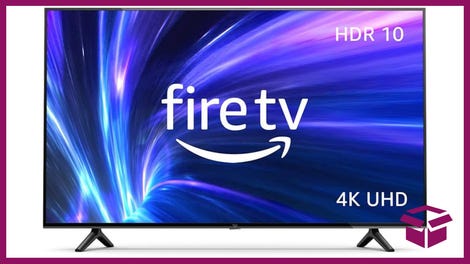 42% Off
Amazon Fire TV 50" 4K Smart TV
But before we talk interior, let's talk about the van itself. The new Transit replaces the iconic and evergreen E-series (the old Econoline) vans that have been the backbone of American big/multitudinous stuff and shitty garage band transport since the '60s. It's a vastly more modern design, tall and open and airy, with a dramatically sloping front that, while not quite cab-over, doesn't rob much precious length from you and your stuff.
The Ford corporate grille in this context gives the Transit a face like a frightened robotic guppy, but I don't actually dislike it. The overall look feels sleek and modern. It's a unibody van, and as such is a good bit lighter than the old E-series and manages to enclose even more volume, 487 cubic feet.
That near-studio-apartment-sized volume of space is pretty lavishly appointed in the Skyliner (also, note what a huge different a final "R" makes in the car world) even if it does sort of have a clinical, Kubrick's 2001 monolith-beings medical examination room feel about it. There's a motorized table and four motorized robo-chairs in the main seating area, and they can rotate to face one another or be put in a "theater" mode where they all face a drop-down screen.
Yes, a screen. With a projector in the ceiling, and automatically-decending window shades. Sure, it's cool to watch happen, but I feel like a flexible screen on anything but a polished glass highway is going to flap and move annoyingly. Seems like a big flip-down flat screen would have made more sense.
There's also a fridge and a bar, all still in a sleek, clinical white that I'm sure can be rapidly cleaned of hooker's blood when some above-the-law billionaire decides to see what it feels like to kill.
Here's a few more specs from the Press Release:
The entire interior – from seats to LED mood lighting – is integrated into a Crestron automation system controlled through a smartphone or tablet. The entertainment system also features Focal Utopia 7.2 surround sound with speakers handmade in France specifically for Transit Skyliner, a KVH DIRECTV satellite for HD TV and a Kaleidescape media server with storage space equivalent to more than 300 Blu-ray movies or more than 1,000 DVDs.
They don't mention how many Beta tapes that equates to.
Everything is controlled via iPads (except one control that's clearly a rear-view mirror control) that mount magnetically to strategically-placed mounts, and the whole thing — right back to the custom-made luggage in the rear cargo bay — does feel like God's dad's mentor's boss' dentist's own spaceship.
The best part, though, is the floor. The lovely wooden floor. This floor should be a testimony to the value of wood floors in cars. I really want to see more of that. A Ford Flex, for example, would work great with a wood floor.
Having a mobile room is such a leap in the possibilities of luxury travel that I feel like Ford is missing out just having these be made by outside companies and sold for extravagant amounts of money. They need an offering for the simply rich and not just the disgustingly rich. They need a Lincoln luxury van.
It'd be perfect — one of the shorter wheelbase Transits badged as a Lincoln and sold with captain's chairs, drop-down video screens, high-end materials, and all the luxury candy rich guys/gals expect in their big, dumb sedans and SUVs, but with that one key magic element: space.
Lots and lots of space. To pace, recline, spend quality time with their adultery partners and more. Space is the ultimate luxury, and Ford has the ideal vehicle to deliver it.
Of course, every Ford guy I suggested this to looked at me like I was an idiot, and then berated me for what I did in the fridge. It's not my fault these things don't come with bathrooms.
The Skyliner will be at the New York Auto Show, so we'll have some more information on it soon.