Amy Johnson didn't realize how dissatisfied she was with her job as a secretary at a law firm until she saw an airplane take off from her backyard. As the wheels left the ground and the impossible hunk of metal and engineering took flight, Johnson realized that there was more to the world than just the daily grind that her life had become. It's easy to imagine her closing her eyes, imagining the wind whipping against her face as she careens through thousands of feet off the ground and sees the world from a whole new vantage point.
Born in Yorkshire, England in 1903 to a family of fish merchants, Johnson was quite sure that she would live a relatively simple life. She earned a Bachelor degree in economics and set to work. She was something of an anomaly—women weren't quite yet a prevalent demographic in the workforce—but it wasn't as if her dreams were rocketing her into the sky. At least, until she saw that plane take off.
Flying was a mere hobby for her at first, albeit one that she spent her meager life savings on according to Fast Ladies by Jean François Bouzanquet. After all, it was probably hard to picture herself making a career out of piloting, as it was a rather niche field. But, under the instruction of Captain Valentine Baker, she took to flight quickly and passionately. She gained her aviator's certificate in June of 1929, her pilot's A license in 1929, and that same year became the first British woman to obtain a ground engineer's C license. By the end, she was itching to transform aviation from a side hustle into her life's passion.
Thankfully, her family was supportive of her ambitions. Her father spotted her the funds to purchase a second-hand de Havilland DH.60 Gipsy Moth that she named Jason. And with her first craft in her possession, Johnson was determined to be unstoppable.
G/O Media may get a commission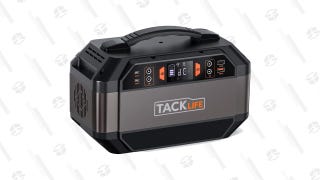 Tacklife Portable Solar Generator
The interwar period needed a spectacle. It needed something—someone— to challenge boundaries. So, on May 5, 1930, Johnson set off from London and ended up in the Northern Territory of Australia on the 24th. No other female pilot had completed the 11,000 mile flight from England to Australia before her. And, while her craft was damaged while she was landing in Brisbane, nobody could take that record—or the confidence it gave her—away from Johnson.
A feat of that nature didn't go unnoticed. Suddenly, Johnson was attracting the attention of sponsors and media who wanted to see how far this daring woman would go.
In 1931, Johnson bought a de Havilland DH.80 Puss Moth that she named, fittingly, Jason II. She, alongside her co-pilot Jack Humphreys, became the first people to fly 1760 miles from London to Moscow in under a single day (about 21 hours). And, since they were already at it, they figured they might as well keep going. So, they continued on to Siberia, then to Tokyo, that saw them setting a record time for flying from Britain to Japan.
Even Johnson's love life was a whirlwind—in 1932 she married Jim Mollison. The two had known each other for only eight hours at the time, and he chose to propose mid-flight. The romance of the gesture wasn't lost, and, really, Amy found no choice but to agree.
She celebrated the new marriage the way anyone would: she flew solo from London to Cape Town to break the record that her new husband held.
With a romance so firmly built on the passion of aviation, Johnson and Mollison teamed up for plenty of flights during their marriage. And their relationship was promptly tested: on a flight from South Wales to New York, their plane ran out of fuel and crashed in Connecticut. Both husband and wife were injured in the crash, but, thankfully, not seriously. After spending a fair amount of time in the hospital, the two were celebrated widely in New York City for their daring.
Unfortunately, the marriage to Mollison resulted in some poor luck on Johnson's end. She broke her final record in 1936 when she took back her Britain to Cape Town record. But she suffered engine trouble with Mollison on a race from Britain to Australia, forcing them to retire. And then, during a stunt display at Walsall Aerodrome, Johnson crashed her glider. Thankfully, she escaped without injury, but she decided not to take any more chances. She and Mollison divorced soon after.
Sponsors were constantly on the lookout to include Johnson in their big events. In 1938, after her divorce to Mollison, Amy was invited to take part in the Paris-Vicy-Saint Raphaël Rally in a Talbot-Lago T150 Grand Sport coupe that was prepared especially for her by Anthony Lago himself. It was her first time racing behind the wheel of a car, and she showed her merit by winning the Concours d'Élégance.

She took part in the Shelsley Walsh hillclimb and the RAC Rally, but her only other outing was halted by her divorce. She was required to remain in England during the proceedings, which barred her from taking part in the prestigious Monte Carlo Rally.
A potential career in racing was cut short as World War II broke out. Johnson was able to use her unique skill set to join the Air Transport Auxiliary, transporting Royal Air Force crafts around the country. She was so efficient at her job that she quickly rose to the rank of First Officer.
But in 1941, Johnson was sent out in terrible conditions. She became lost in gales of snow and fell off the radar. It's reported that she ran out of fuel and crashed into the Thames Estuary, but her body was never found. She was posthumously awarded the Albert Medal that May to recognize that she had done her part to save lives in the war.
Despite her early death, Amy Johnson's spirit continues to live on. Her first plane, Jason, is preserved at the Science Museum in London, and her father donated souvenirs and mementos to Sewerby Hall. She was the subject of songs, has been carved in statues, and lives on via the names of several buildings around the United Kingdom. The Royal Aeronautical Society has established an Amy Johnson Named Lecture to celebrate women in aviation. She's been commemorated in the Google doodles, and her name has been used on multiple different commercial planes around the world. And that's not even counting the wealth of characters, books, plays, and musicals that are inspired by Amy Johnson.
Amy Johnson's life was one cut unfortunately short. But she serves as an example of the accomplishments of women in a male-dominated era, one who has been rightfully recognized for the incredible successes of her career.