As you already know, Ford dropped a double dose of news on us this morning. First, they lost $8.7 billion during the second quarter of this year. Second, they've officially revealed "One Ford," their global product realignment plan to bring to the United States much of their European lineup that's considered by many to be top-notch. With some seriously long press releases to wade through and items like "North America Long-Lived Assets" to explain, we figured you could use a hand in figuring out what this all means. So, we've put together a quick walk-through of what was said and our explanation — in patented Jalopnik Snap Judgment style — below the jump for all you people out there who just want to be "in the know."
Press Release #1: Ford's 2nd Quarter Earnings
What Ford Says: Ford reported a net loss of $8.7 billion.
Jalopnik Snap Judgment: $8.7 billion sure sounds like a lot of money. Well, that's because it is a lot of money — $3.88 per share, to be precise. It's actually the company's worst quarterly results ever. Especially given the company made a net profit of $750 million, or 31 cents per share, during the second quarter of last year.
But the real important numbers are how much cash they have on hand and how much revenues were. Second quarter revenue was only $38.6 billion, down $5.6 billion from the same quarter a year ago. And cash on hand? $26.6 billion now versus $28.7 billion at the end of March, 2008.
What Ford Says: It's not all bad news. Ford posted profits of $582 million in Ford Europe and $388 million in Ford South America.
Jalopnik Snap Judgment: Yes, this is true. Very good, Ford. But it's hard to get excited abut $960 million in profits when you've just dropped over $8 billion throughout the rest of the organization.
G/O Media may get a commission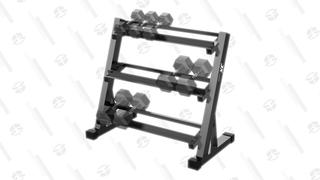 20% Off
JX Fitness Dumbbell Rack
Gains but tidy
Has a three-tier design to help store more weights more conveniently, can safely support up to 1000lbs of weight, which should be enough for most people, has a triangle base for stability, and also features anti-scratch feet which is great if you've built your own studio or workout in your garage.
What Ford Says: Ford's claiming $1 billion in cost savings, including over $600 million in Ford North America and claims to be on track with reducing annual costs by $5 billion by the end of 2008 compared with expense outlays in 2005.
Jalopnik Snap Judgment: Yes, both very good things. It remains to be seen how much of those annual cost reductions are due to decreases in production and actual cost reductions. However, we do know quite a few personnel reductions have taken place over in Dearborn over the past few months, with more targeted buyouts offered to reduce salary-related costs by 15% in North American operations.
What Ford Says: $8 billion of the $8.7 billion loss are from "pre-tax special charges."
Jalopnik Snap Judgment: So this is where things get a little confusing. Some $516 million of the losses are the type of losses normally seen as items that can be written off as losses on a pre-tax non-ongoing basis — these would be items like the costs associated with cutting personnel, plant sales or reducing the number of dealers. But then there's the line item of "North America Long-Lived Assets" for $5.3 billion dollars. We'd never seen a line item like that on a list of pre-tax items, but we finally figured it out. We're interpreting it as Ford writing off the losses they'll take on the factory equipment they'll need to junk now that they'll be using those factories to build small cars. We'd even expect they'll need to take another cash hit in the next quarter to pay for that new machinery.
And that brings us to...
Press Release #2: Ford's Small Car Euro Offensive, Manufacturing Restructuring
What Ford Says: Ford is bringing six small vehicles to North America from the company's acclaimed European lineup.
Jalopnik Snap Judgment: Ford's finally answering U.S. auto enthusiasts prayers, and bringing their highly-regarded European lineup to the United States. We know we're getting from Europe the following vehicles:
1.) European Ford Fiesta - Four-Door
2.) European Ford Fiesta - Five-Door
3.) European Ford Focus - Four-Door
4.) European Ford Focus - Five-Door
5.) New 2010 Mercury Small Car
6.) New 2010 European Small "whitespace" vehicle
By the way, "whitespace" means a place where a vehicle does not currently fulfill a need. Like a three-wheeled MPV. Or, you know, a two-door six-seater.
We do also want to note that it doesn't appear that there will be a two-door Focus coming stateside. We guess that means we won't be getting the RS here. Sad. Still, we'd prefer the stylings of the four-door and five-door Euro Focus over — well — over just about any design Ford North America's put out in small cars in years.
What Ford Says: "Ford will convert three existing North American truck and SUV plants for small car production, with the first conversion beginning this December...The moves are in addition to Ford's announcements in May and June that it is reducing its North American production plans for large trucks and SUVs for the remainder of 2008, as well as increasing production of smaller cars and crossovers."
Jalopnik Snap Judgment: To accomplish this and build some of these new Euro vehicles here in North America, Ford will be making the following manufacturing plant changes. We want to emphasize Ford claims these will be flexible manufacturing changes — to ensure they're able to shift production when and if necessary:
* Michigan Truck Plant in Wayne, Mich.,
Currently Builds: Ford Expedition, Lincoln Navigator (to move to Kentucky Truck Plant early next year)
Will Build: Small cars derived from Ford's global C-car platform
Conversion Begins: December, 2008
Production Begins: 2010
* Cuautitlan Assembly Plant in Mexico
Currently Builds: F-Series pickups
Will Build: Ford Fiesta
Conversion Begins: ???
Production Begins: Early 2010
* Louisville (Ky.) Assembly Plant
Currently Builds: Ford Explorer mid-size SUV
Will Build: small vehicles from Ford's global C-car platform
Conversion Begins: ???
Production Begins: 2011
* Twin Cities (Minn.) Assembly Plant - was scheduled to close in 2009, but remain open to continue production of the Ford Ranger through 2011 to meet consumer demand.
* Kansas City Assembly Plant this year will add a third crew to its small utility line for the Ford Escape, Escape Hybrid and Mercury Mariner and Mariner Hybrid. (*Previously announced)
What Ford Says: "The company also confirmed Ford, Lincoln and Mercury will remain in its North American brand portfolio."
Jalopnik Snap Judgment: Looks like the Mercury brand will still be around — rumors of its demise appear to be greatly exaggerated. If the NYT is right, they'll be getting the brunt of the new Euro-designed small cars coming stateside.
What Ford Says: The Ford, Lincoln, Mercury line will be almost completely upgraded by the end of 2010.
Jalopnik Snap Judgment: Here's what they're talking about:
* 2009 Ford F-150, on sale in late fall
* 2010 Ford Fusion, Mercury Milan, Lincoln MKZ sedans, on sale in early 2009, Ford says Fusion's and Milan's four-cylinder fuel economy expected to top Honda Accord and Toyota Camry
* 2010 Ford Fusion Hybrid and Mercury Milan Hybrid, beginning production late this year and on sale in early 2009 - Ford claims fuel economy expected to top the Toyota Camry hybrid
* New Ford Mustang - coupe, convertible, glass-roof and every other variant model you can think of - in early 2009
* New Ford Taurus sedan - with EcoBoost engine - in mid-2009
* New Lincoln seven-passenger crossover - with EcoBoost engine - in mid-2009
* Next-generation Ford Explorer - with unibody construction, EcoBoost, six-speed, weight savings and improved aerodynamics for up to 25 percent better fuel economy, did we mention EcoBoost? - in 2010