Good morning! Welcome to The Morning Shift, your roundup of the auto news you crave, all in one place every weekday morning. Here are the important stories you need to know.

1st Gear: It's Time To Set The Date Already, Argues CA Lawmaker
We're still slowly marching towards an electric car future, but one California lawmaker wants to set a distinct target for a complete handover, as Bloomberg reports:
California Assemblymember Phil Ting, a Democrat who is chairman of the chamber's budget committee, said he plans to introduce a bill that, starting in 2040, would allow the state's motor vehicles department to register only "clean" vehicles that emit no carbon dioxide, such as battery-electric or hydrogen fuel-cell cars.

"Until you set a deadline, nothing gets done," Ting, who represents much of San Francisco, said in a phone interview Tuesday. "It's responsible for us to set a deadline 23 years in advance."

This would be the biggest car ban we've yet seen, though polluting car bans are becoming more and more the norm in major cities.
The bill should be presented in Sacramento next month, carried aloft by the ghosts of crushed GM EV1s.
G/O Media may get a commission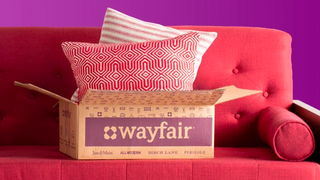 Big deals
Wayfair Surplus Sale
2nd Gear: Ford Is Reportedly Going To Start Selling Cars Online In China
Ford is expected to formally announce a tie-up with the Chinese mega-online-shopping-company Alibaba to sell cars directly to consumers online. Nothing is official yet, but it could be as early as Thursday, Reuters reports. The exact nature of the deal could entail cars sold directly online, or through a kind of direct-sales vending machine through Alibaba's Tmall branch, per Reuters:
The source said the proposal could mean that cars purchased online are delivered to buyers by franchised Ford retail stores and would be maintained and repaired by them.

But Ford could also use Tmall's new retail concept called the "Automotive Vending Machine" — a multi-storey parking garage that partly resembles a giant vending machine — to sell directly to consumers, the source said. Those cars could come directly from Ford or from its dealers but the details are still to be worked out, the source added.
Reuters argues that this is a move to help boost Ford's somewhat struggling sales in China.
I only wish that it would be a test run for more of this system in America, but I don't have a ton of hope for that. Others have tried to go dealerless in the U.S. and it hasn't been easy.
3rd Gear: Germany Doesn't Want More EU Oversight On Auto Approvals For Some Reason
In the wake of Dieselgate, the EU wants more oversight in how individual nations within Europe approve a car as safe and clean for sale to the public. Germany (along with Italy) oppose this plan for stricter rules, Reuters reports:
EU documents seen by Reuters show EU lawmakers want the Commission to be able to carry out regular audits of national car approval authorities. Some member states, including France, support two days of verification every five years.

Germany, however, opposes inspections by the Commission, arguing "any kind of audit means extra bureaucracy without being beneficial," in a position paper dated Nov. 30, seen by Reuters. Italy and seven other nations are asking for conditions that would weaken the Commission's oversight power, the sources said.

"It boils down to: do we want the Commission to put its nose in the affairs of the national type-approval authorities?" one diplomat said. "After Dieselgate, it's hard to say no."

Hm. I wonder why Germany might want to oppose this kind of oversight. Oh, also, yesterday BMW just got suspected for more NOx emissions cheating, which the company vehemently denies. Huh.
4th Gear: The Hybrid London Cab Started Picking Up Fares
Here's a neat one, the new range-extended London Cab is picking up fares already. A lot of news calls this an electric cab, which it kind of is, because it runs off of electric power, but the new vehicle also has a Volvo gasoline engine to work as a range extender. "Only a handful" of hybrid taxis are on the road thus far, The Verge reports, but London wants this roll-out to scale up to half of all black cabs being electric by 2021, per Reuters. The trouble at the moment, as it is for all EVs, is the infrastructure, as the BBC reports:
Concern has also been raised about the small number of electric charging points in place throughout the capital.

An £18m scheme to install 75 rapid charging stations by the end of this year - which can load vehicles in 30 minutes - is reportedly behind schedule.

"The whole thing is just a farce, you couldn't make it up," says Steve McNamara, General Secretary of the Licensed Taxi Drivers Association.

Charging is what undid the last big electric taxi effort. Hopefully this one will go better.
5th Gear: Unsurprisingly, Lithium Prices Are Soaring Right Now
As electric vehicle demand rises, so too does the price of that key component lithium, which Bloomberg reports is soaring to record highs:
Prices for the mineral used in rechargeable batteries soared to $14,000 a metric ton in South America in November, according to Benchmark Mineral Intelligence. One or two medium-sized lithium projects would have to start producing each year to keep up with estimated annual demand growth of about 15 percent. SQM expects the market to remain tight until the second half of 2018 when new output from two Australian mines will take effect.

I can only imagine that it's a matter of time before the Chilean desert, where the world's largest lithium reserves are to be found, is entirely a mining operation.
Reverse: That's Quite Fast
Neutral: When Do You Think The All-Electric Reckoning Will Come?
I don't know if we'll ever see a ban on human driving, but I do expect that the pollution of gasoline is imminent. We've banned lead in gasoline; it's not a massive stretch to ban gasoline power in general. I give us two decades. What about you?