NASCAR Senior Vice President of Competition Robin Pemberton has been with the sanctioning body since 2004, but may be best known for telling Sprint Cup drivers, "have at it, boys." Per Autosport, he will be leaving the post at the end of 2015.

This announcement follows the conclusion of this season's Chase for the Sprint Cup—a playoff which was defined in part by Matt Kenseth and Joey Logano's contact on track—and NASCAR's subsequent crackdown on intentional contact.

"Have at it, boys" has been taken as the series' general attitude towards on-track incidents after Pemberton said it before the 2010 season. NASCAR had been accused of being sterile, and the more lax enforcement where drivers didn't get overly penalized for track incidents helped bring attention back to the sport.
However, the series keeps defining what "it" really means by penalizing intentional contact that is a bit too dangerous for their liking, such as the two retaliatory incidents at Martinsville Speedway.

Perhaps some of Pemberton's other, less publicized contributions to the sport enabled them to get away with a more lax enforcement of the rules. Pemberton oversaw the launch of the Generation 6 Sprint Cup cars in 2013, which benefited from numerous safety and technical advances made during his tenure at NASCAR—including the use of electronic fuel injection. He also overhauled the rules and inspection processes in NASCAR's national series.

G/O Media may get a commission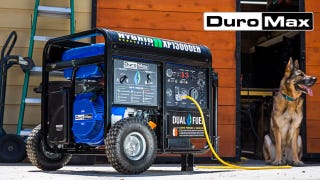 Black Friday Sale
DuroMax Generator Sale
According to a NASCAR press release, Pemberton came from the competition side, and was credited with bringing the sanctioning body closer to the racing community during his 12 seasons working for NASCAR.

"He joined us at a critical time and very quickly gave our highly visible competition group the credibility and confidence it needed to be successful with the industry," said NASCAR vice president Mike Helton in a NASCAR press release.

For now, Pemberton will stick around to help with the transition to his replacement at the start of 2016.

UPDATE: We now know who that replacement will be: NASCAR confirmed today that Scott Miller, formerly the Executive Vice President of Competition at Michael Waltrip Racing, will be their new Senior Vice President of Competition.

Miller had this to say to NASCAR about the new job:
I'm looking forward to using the experience I've gained working within teams in an entirely new way at NASCAR. Our sport has evolved quickly over the last several seasons through advanced technology and its creative application in the garage area. We will strive to continue this forward momentum while assuring a level playing field and competitive racing. It's a challenging opportunity and a logical next step for me. I can't wait to get started.
It looks like a win-win: NASCAR gets another experienced head from the teams' side of things with prior experience as a crew chief and a racer, and Miller has a place to go now that Michael Waltrip Racing is paring back and not fielding a full-time Sprint Cup entry anymore.

GIF via NASCAR on YouTube

---
Contact the author at stef.schrader@jalopnik.com.