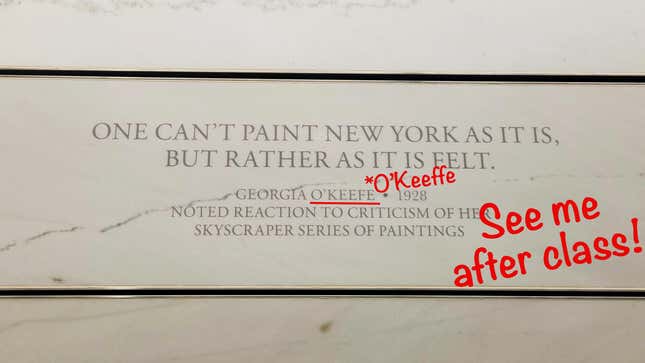 New York gained a bright, shiny new train terminal last week and the Metropolitan Transportation Authority decorated the walls with brilliant and moving quotes about the Big Apple from some of the city's most famous residents. Unfortunately, one quote features an embarrassing typo.
"One can't paint New York as it is, but rather as it is felt," is attributed to one "Georgia O'Keefe" and adorns the mezzanine wall in Grand Central Madison. That name is only one letter off from the name of one of the most important modernist American painters of the 20th Century.
"We clearly f-ed this one up and it's being fixed," Metropolitan Transportation Authority Communications Director Tim Minton said in a statement to Bloomberg, referring to the missing F in the name.
Known primarily for her modernist paintings of flowers, animal skulls and skyscrapers, O'Keeffe learned her craft at the Art Students League in New York, as well as lived in the city early on in her career. Here's what the Georgia O'Keeffe museum says about her connection to New York:
O'Keeffe mailed some of these highly abstract drawings to a friend in New York City. Her friend showed them to Alfred Stieglitz, the art dealer and renowned photographer, who would eventually become O'Keeffe's husband. He became the first to exhibit her work, in 1916.

By the mid-1920s, O'Keeffe was recognized as one of America's most important and successful artists, known for her paintings of New York skyscrapers—an essentially American symbol of modernity—as well as her equally radical depictions of flowers.
Other quotes on the walls of the new terminal come from New York luminaries like Yoko Ono, Derek Jeter, Joan Didion and Toni Morrison.
I don't know if any of you have had the pleasure of paying $40,000 for a journalism degree, but one of the things my crotchety Copy Editing 101 professor insisted on was always, always triple checking all proper nouns. Still, everyone messes up now and then; it's why pencils have erasers and stone masons have chisels.