A crazed woman trying to sell bugs on the D train last night got heckled, freaked out, and then threw bugs on everyone, as the New York Post reports. If you're wondering what it's like to live and commute in the New York City subway system, here you go.
You can see a video of the sadly disturbed woman here, which was apparently taken after some horrific kid punched her and then she threw bugs and crickets on people.
She and everyone else on the train freaked out, and one person pulled the emergency cord. Big mistake. The train ended up stuck in between stations on the Manhattan Bridge. The air conditioning cut out. The woman peed on the floor. The Post gave this first-person account of a 29-year-old on the train with the woman, describing the "pandemonium" in the car:
"She was banging on the doors and trying to climb out the windows. Everyone had crickets on their arms. My girlfriend was crying," said Calabrese. "Then some men were trying to hold her down and she started trying to throw up on them."

Certainly selling bugs on the D train is the definition of a bad idea, but let me be extra clear that whoever threw that punch is the villain here. Don't punch anyone, much less a clearly disturbed woman holding hundreds of bugs. And dear god don't ever pull the emergency brake. That is something only Bad New Yorkers do.
After half an hour, the train got rolling again and police, waiting at the next station, quickly removed the woman.

G/O Media may get a commission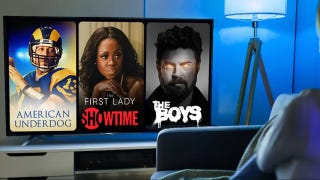 UNDER $1
99¢ Prime Video Channels
The D train is as real as it gets.