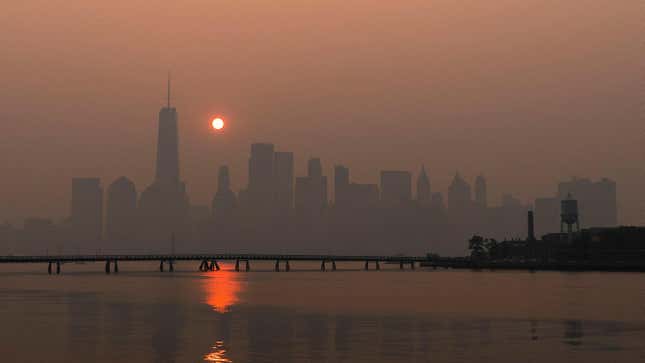 Typically, alternative side parking rules in New York City only see emergency suspensions for snowstorms. The smoke from wildfires in Canada has smothered New York's streets and made the city's air quality the worse in the world. As a result, city officials made the unusual decision to suspend alternate side parking on Thursday.
2024 Nissan Z NISMO | Jalopnik Reviews
There have been an incredibly high amount of wildfires in Quebec with CNN reporting there have been over 400 wildfires in the Canadian province so far this year — double the normal average. The 150 wildfires currently raging across Quebec have wreaked havoc on local communities, and the impact has been felt beyond Canada's borders.
Smoke from the wildfires has drifted over the northeastern part of the United States, significantly affecting everyday life in Philadelphia, Washington D.C., and New York City. America's largest city has been the most severely hit by the smoke. On Wednesday, New York City's Air Quality Index reached 484 out of a potential 500. Air Quality Index is categorized as hazardous once it exceeds 300.
During a press conference on the situation, Mayor Eric Adams said:
I want to be clear. While there may be potential for significantly improved conditions by Friday morning, smoke predictability that far out is low. It is difficult to predict the movement of this smoke. As Commissioner Iscol stated earlier, this is an unpredictable series of events, and we cannot provide guidance more than a day in advance at this point. As a result, we're encouraging New Yorkers to stay home, indoors, tonight and tomorrow whenever possible, especially our vulnerable New Yorkers.
Along with suspending alternate side parking, the city also advised drivers to follow the speed limits posted on the bridges over the East River because of the poor visibility. The city has urged residents to stay indoors if possible, beaches have been closed and public schools have moved any planned outdoor activities indoors.