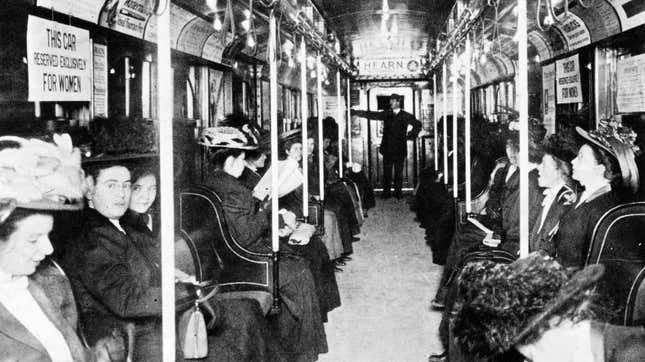 Like the concept of public transportation in general, the United States briefly dabbled with the idea of women-only train and subway cars in the early 19th century. A women-only compartment was trialed in New York City for a few months in 1909, but was never fully realized. Despite a measurable increase in ridership, significant opposition to a permanent change shelved the women-only concept in America's largest city and the rest of the county.

Modern women-only train cars, most famously in Japan, were introduced in the early 20th century. Its implementation in various countries around the world is largely a measure to stop sexual assaults against women. However, the measure has been viewed as divisive. Opponents have stated that split-gender cars avoid solving the societal issues that lead to sexual assaults.
1909 was truly a different time from the 2000s. The Ford Model T was launched the year prior. It was 11 years before the ratification of the 19th Amendment, which recognized the right of women to vote in the United States. New York City's subway was only five years old at the time. The fledging system was still operated by a handful of privately owned companies and decades away from being unified by the state under the Metropolitan Transportation Authority.
In 1909, the Interborough Rapid Transit Company (IRT) considered a proposal from a member of the Women's Municipal League to reserve the last car on subway trains for women. The IRT turned down the idea as impractical to enforce. The Hudson & Manhattan Railroad, though, took up the concept on its subway trains during rush hours between Manhattan and Hoboken, New Jersey. The Hudson & Manhattan eventually became PATH, not part of the MTA Subway.
The Hudson & Manhattan trial's second day saw a fifty percent increase in ridership. However, according to Untapped New York, the trial only ran from April to July 1909. There was staunch opposition to the concept being implemented permanently. The initiative wasn't even universally popular with women. Ida Husted Harper, writer and suffragette, stated that the women-only car would create an environment where men would assume it was the only car where women were allowed.