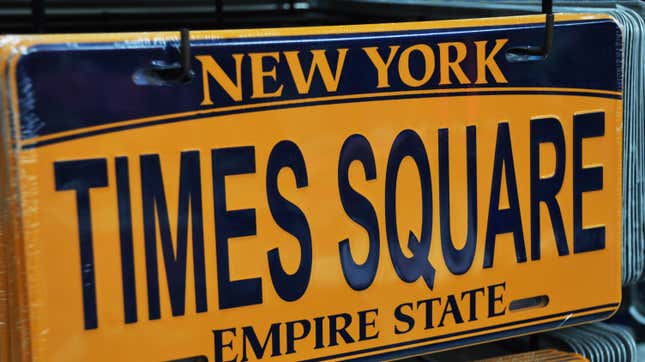 There are around eleven million light-duty vehicles registered in New York state, many of which have fake or altered license plates to avoid tolls on highways and bridges, which are paid through E-ZPass or by mail, by photographing license plates and sending the registered owner a bill. If one's license plate is fake or altered, one may be able to avoid the toll, like an asshole I golfed with on Staten Island once, who said that he was upset that he forgot to attach his fake plate to his motorcycle before crossing the Verrazzano-Narrows Bridge that day, and now he'd be on the hook for the toll, which is $6.55.
2024 Nissan Z NISMO | Jalopnik Reviews
Now, in much of America, a traffic infraction like having a fake license plate would be more than enough reason for local law enforcement to pull you over and investigate everything else you might be doing illegally in your car, which I know from watching COPS and also living for decades in the state of Ohio. This is not quite the case in New York state, including New York City, perhaps because law enforcement themselves are some of the offenders.
This is a situation that makes a certain type of urban activist extremely mad, because cheating is lame and life should be fair, though it isn't. In at least lip service to such folks, occasionally something very bad will happen, and the authorities will announce a crackdown on fake plates. Another such crackdown was announced on Tuesday. There was no obvious precipitating event other than that some people had to wake up recently and attempt to do their jobs.
According to the press release from the New York Department of Motor Vehicles, this latest crackdown has been in the works for months and involved several government agencies. The grand results of the huge crackdown:
Since January, the effort has resulted in 420 citations, include 92 plate violations, 66 traffic tickets, 36 towed vehicles, 29 improper registrations, 26 plates seized, 23 uninspected vehicles, 20 unregistered vehicles and 11 fraudulent temporary registrations.
If I'm doing my math correctly, that is around 52 citations per government agency over more than four months, or apparently fewer than a single parking ticket guy can issue in a day. Stellar work by all involved, in other words. Like other crackdowns, this one was accompanied by various quotes from New York public officials, including the heads of the DMV, the New York State Police, the New York Police Department, the New York City Sheriff's Office, MTA Bridges and Tunnels, the Albany County Sheriff's Office, and the Utica police.
Probably the saddest, though, was from the Commissioner of the Taxi and Limousine Commission, which reads:
"I am extremely proud of the TLC officers and our fellow law enforcement partners who have been participating in this important campaign," said TLC Commissioner David Do. "It has been an honor to work with the State DMV to make our roadways safer. Many of the individuals using fake plates should not be driving in the first place, and they use this ploy to circumvent our laws and get onto our roads, where they increase the danger and the cost for everyone else. These ongoing operations are successfully taking the bad actors off the board, increasing the safety for all."
Taking bad actors off the board, enforcing the laws on the books, and improving traffic safety do sound like great ideas! If only we had one or eight government agencies here in New York to do that. This time next year perhaps dozens more citations can be issued.