Are we about to enter a recession in 2019? It's possible. If that happens could compact cars take over our highways once again? Unlikely, but who knows? Regardless what the future holds, if you are in the market for a car and are on a budget, now is a good time to buy a sedan.

Everyone knows that the sedan bodystyle is a dying breed. Buyers who want crossovers for the extra height, ostensible utility and all-wheel-drive and have been abandoning the traditional four-door car for some time.

But sedans are still good—and they are getting cheaper. If you are one of those buyers who is smart enough to know that AWD won't save you in the snow and that higher doesn't equal safer, a new sedan might be your ticket for a car that just will do a good job getting you around. And if you're in need of a ride to get you to work and move the family around and don't have a ton of cash just laying around, an auto loan can be a necessary evil, but the trick is not to "overbuy" your car and stay well within your means.

Here are some deals on brand new sedans that are ridiculously cheap, like a brand new Chevy Cruze under $10,000:
G/O Media may get a commission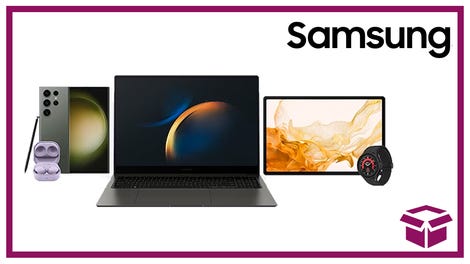 24 hour deals
Discover Samsung - Daily Deal
The Chevy Cruze was finally a solid small car from GM, but it just couldn't hang in the market with folks gravitating towards the Asian brands. Now, Chevy will discontinue the Cruze as it restructures some of its factories.
It may not be too fancy, but it is comfortable, competitive in that segment and offers nice standard features with great fuel economy.
A 2019 Jetta S for under $13,000:

I see you looking at used BMW E90s on Craigslist. Those are great and fun cars, but unless you plan on socking several grand away for the inevitable repairs you need to be real with yourself and understand you need your car to get to work or school. This Jetta won't have the same driving dynamics as the BMW but this one has a manual and it is "German," more importantly it comes with a six-year/72,000-mile warranty. It's all new for 2019 and already super cheap.

A 2018 Hyundai Sonata SE for under $15,000 :

Remember when a sub-$15,000 car was a cramped penalty box? The Sonata is one of the most competent and comfortable mid-size sedans you can buy. It comes standard with cool features like Android Auto/Apple CarPlay, will seat four adults comfortably, has a large trunk and gets up to 36 MPG on the highway.

2018 Ford Taurus under $18,000:
Maybe you spend a lot of time on the road and want something with a little bit of power and some creature comforts to eat up the miles. This Taurus has nice wide seats and a big V6, making it an excellent highway cruiser. Like the Cruze, the Taurus's days are numbered as well but this bull can still do the work.
Of course, many of these advertised prices are likely to be stacked with rebates and discounts that not everyone qualifies for, but once those are filtered out buyers can still score some massive discounts on good sedans.

The key point to remember is that despite these sale prices these cars are all likely to take a pretty massive drop in depreciation. You don't want to buy one of these only to roll it over in a few years into something else and risk having negative equity. Try to scrounge up a hefty down payment if you can. The longer you keep these cars the more value you get out of them.

The other thing to keep in mind is that those were just a sampling of brand-new sedans that you can pick up at bargain prices, there are thousands of lightly used cars with at a variety of price points that could provide great values as well.