The video below takes you on a virtual mission in the F-16IN 'Super Viper' cockpit, showing how some of the jet's amazing avionics and automation work. The Viper has evolved from a basic light-weight fighter into a medium-weight strike-fighter over the last four decades and in the F-16IN configuration it would have been one smart and deadly snake.
This video was shot during Lockheed's bid for India's Medium Multi-Role Combat Aircraft competition. The F-16IN Super Viper variant evolved from both the F-16C/D Block 52+ and the F-16E/F Block 60 Desert Falcon. Included with this configuration were conformal fuel tanks, a 32,500lb class turbofan engine, an evolved cockpit with large flat panel displays, AESA radar (presumably the APG-80 at the time) capable of simultaneous air-to-air and air-to-ground operations, a new mission computer, digital radar warning receiver and electronic warfare suite, an advanced datalink, digital terrain avoidance system, along with other smaller modifications. An extendable midair refueling probe was also going to be designed into the jet's conformal fuel tank so that Indian Il-78 'Midas' tankers could refuel it.
Here is a general overview of the F-16's highly efficient cockpit for further reference:
In the end, the Indian Super Viper's single engine design, very mature nature of the F-16s development, lack of speed and super-agility saw it lose to the French-built Dassault Rafale.
G/O Media may get a commission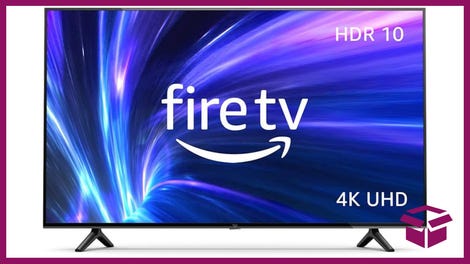 42% Off
Amazon Fire TV 50" 4K Smart TV
Although Dassault won the MMRCA competition three years ago, the MMRCA saga is still not over and not one Rafale has been officially ordered. Almost never-ending haggling over the terms of the contract has hobbled the whole affair and although there appears to be some progress finally, some in the defense world think the MMRCA will never be fulfilled. Instead India will punt the whole program after learning a lot about many nations' top-of-the-line fighters and opt to buy a stealthier aircraft in large numbers, such as the Russian-Indian PAK-FA or even the F-35 Lightning.
As far as the now defunct F-16IN Super Viper goes, many of the improvements and subsystems featured in it have been adapted to the F-16V program, which is seen as a accompaniment to the F-35, not a competitor with it. The F-16V can be ordered as whole new aircraft or it can be ordered as an upgrade kit, with different elements omitted or included based on the user's needs and budget. You can compare the F-35's cockpit automation with that of the F-16 Super Viper here.
The F-16V is fairly analogous to what Taiwan's F-16A/B force is being upgraded to. It was also going to be the basis for an upgrade program that would have included a large portion of America's existing F-16C/D force, known as the Combat Avionics Programmed Extension Suite (CAPES) which would have also operated alongside a structural upgrade as well. This US upgrade program, which many saw as critical for America's near term air-warfare capabilities, was cut in what seemed like a disastrous move to protect F-35 funding during sequestration. Still, as the F-35 continues to have teething problems, the F-16V/CAPES Viper could end up flying with a US flag on its tail. For the foreseeable future, the most advanced F-16s in the world will continue to be the F-16E/F Block 60, flown by the United Arab Emirates Air Force.
Tyler Rogoway is a defense journalist and photographer who maintains the website Foxtrot Alpha for Jalopnik.com You can reach Tyler with story ideas or direct comments regarding this or any other defense topic via the email address Tyler@Jalopnik.com