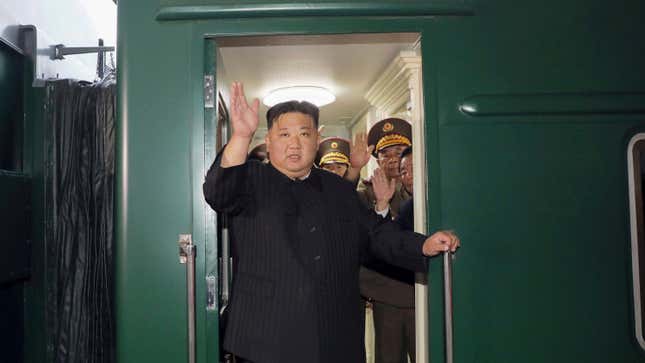 Russia's prolonged invasion of Ukraine has strained its capability to keep its military forces supplied. President Vladimir Putin has been forced to the negotiation table with North Korea, one of the few countries able to produce munitions already used by Russian forces and still have friendly relations with his regime. The upcoming talks between Putin and North Korean dictator Kim Jong Un also mean the world gets to see the reclusive state's armored train for the first time since 2019.
Kim has traveled from the North Korean capital of Pyongyang to Vladivostok on Russia's Pacific Coast in his distinctive 90-car-long green train. The BBC estimates that the journey took at least 20 hours. The lengthy trip is primarily due to the train's top speed of 31 miles per hour. Each of the train's cars is covered in thick armor and fitted with bulletproof windows to protect against attack. The train is also equipped with weapons and a helicopter. It sounds less like transportation for a world leader and more like a James Bond villain.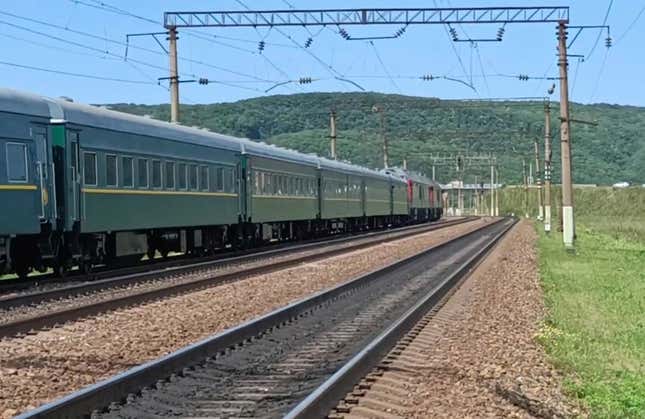 It should also be noted that North Korea and Russia don't share the same rail gauge, meaning that the armored train had to stop at a station near the Russian border and spend hours being refitted to the appropriate wheels. Ironically, isolationist North Korea uses Standard gauge, which is also used in North America, China, the Middle East, and most of Europe. Russia as well as the other former Soviet republics use Russian gauge, a carryover from the Russian Empire.
The wait was likely absurdly comfortable for Kim. A former Russian diplomat stated that the train has a restaurant stocked with fresh lobster and cases of French Bordeaux and Burgundy red wines. The kitchen can also serve other dishes that are considered delicacies in North Korea, like donkey meat.
Kim doesn't travel to every state visit using the armored train, but it has become a North Korean tradition to do so. Kim Il Sung, the country's founder and current Kim's grandfather, began the tradition, and a current train is named in his honor. Kim Jong Il, Kim's father, compulsively continued the practice until his death in 2011 due to his fear of flying. He infamously took a 10-day trip on the trip to Moscow to visit Putin in 2001.