Everyone's getting into crossovers.
March sales numbers are out and there's one astoundingly clear trend getting hammered into our collective temples: crossovers killed the car and ate its brains.
Wait, I wrote that back in 2015. Still, it's more true now than ever.
Car sales at Ford, for instance, dropped 24 percent, as Automotive News' correspondent Mike Martinez tweeted:
Car sales at Nissan dropped 15 percent, as Automotive News followed up:
Volume edged up 0.5 percent at the Nissan brand and 33 percent at Infiniti. The automaker said car volume dropped 15 percent while truck sales surged 29 percent, with record truck volume of 77,258 at the Nissan brand.

G/O Media may get a commission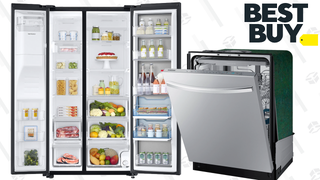 Up to 50% off
Best Buy - Samsung Major Appliance Sale
You can see a similar breakdown at Ford with regards to how sales in total declined, but were mostly held up by crossovers with cars sales taking a gigantic dive. Sales overall at Ford fell 7.2 percent despite that 24 percent car drop. The Fusion, the Big 3's best selling car, dropped 37 percent in March.
GM is seeing this as well. Take Buick, for instance:
This isn't a specific automaker issue. This is industry wide here in America:
Amid the decline, consumers continue to migrate to crossovers and SUVs. J.D. Power says light trucks accounted for 61.5 percent of new-vehicle sales in the first two weeks of March. That would mark the highest level ever for the month and the ninth straight month that crossovers, SUVs, vans and pickups represented more than 60 percent of U.S. light-vehicle volume.

The story here is that while auto sales are slightly down, car sales are waaaaaaaay down. Everyone's switching from normal cars to more elderly-friendly, cushy, tall crossovers.
But beyond that you have to wonder how much of a distinction this genuinely inhabits in the real world. Crossovers are just cars categorized as "light trucks." It's a sales and a regulations distinction, not one that's made in how these cars drive or perform. They're big, tall hatchbacks and that's about it.