We all love American cars, Japanese cars, European cars, and Australian cars, but nobody remembers African cars like the Chevrolet Firenza Can-Am and its Ford rival, the Capri Perana
These were factory road racers, built by stuffing V8s into pony car bodies. Ford of South Africa put a five-liter into their Capri and Chevy sourced their own 302 ci motor from Trans-Am Camaro Z28s.
These cars weren't put on sale anywhere else and were purely South African-market cars, made with the country's popular sports and touring car races in mind. Jim Brennan of Hooniverse has a fantastic write-up on both of those cars and you should go read it.
Of course, not everyone knows about the awesome cars present in the African market, as we found out in the post heralding the coming of the 1.0 liter Ford Fiesta. A few of our readers set the domestic markets against each other.
G/O Media may get a commission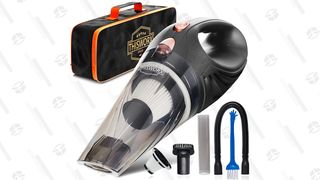 Save 50%
ThisWorx Car Vacuum Cleaner
A 1.0 L engine is interesting and new?

That's cute.
DennyCraneDennyCraneDennyCrane
I'M SORRY BUT WE CAN'T HEAR YOU OVER THE SOUND OF ALL THESE FIREBREATHING V8 CRATE MOTORS
YEAH, NO I THINK THAT NOISE IS COMING FROM ALL THESE V12s... SORRY BRO.
DennyCraneDennyCraneDennyCrane
HUH? SPEAK UP, I HAVE A 1000 HP CTS-V OUTSIDE DOING A BURNOUT AND IT'S MAKING LOTS OF WONDERFUL GLORIOUS NOISE
What the hell is going on up there? Knock it off you two.
*sigh*...
Don't let this happen to you. Know your awesome African cars.