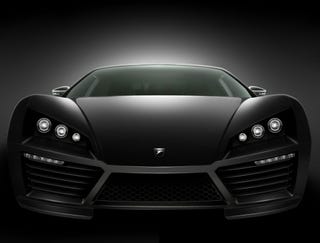 Think Lee Noble's sitting around twiddling his thumbs after the Noble M12? No! So what's he doing next? Designing a Corvette ZR1 LS9-powered, 2,645lb supercar to replace it, naturally. These are the first teaser images from Fenix Automotive.
Of course, if you put doilies on coffee tables and iron your underwear, you don't have to buy this new car with the supercharged 638 HP GM monster mill, a sedate 480 HP version of the LS3 motor will also be available for you pansies out there.

Noble says this new car will be an evolution of the M12 and provide a greater degree of focus on quality and drama. Noble will start development in South Africa in about a month. Targeted performance is 0-to-100 MPH in seven seconds and a top speed in the neighborhood of 200 MPH. We'll be waiting, Mr. Noble.
TEASER PICS PROVIDE FIRST GLIMPSE OF NEW LEE NOBLE SUPERCAR

Leicestershire - These are the first official shots of Fenix Automotive's astonishing new supercar, which is due on UK sale in the second half of this year.

While Lee Noble has given a strong hint that the car will be a 'natural, but even more focused' successor to his iconic M12, his new design is fresh, bold and dramatic, with a premium feel normally associated with exotica costing over £150,000.

"The M12 was hugely successful, but we needed to move the game on in terms of design," said Lee. "The new car's styling owes nothing to what I've done before and has quite literally been a 'clean sheet' exercise from the start. It's edgy, with powerful lines, and aerodynamically will be in another league to any of my previous cars."

Fenix also announced that it will be offering a choice of two engines for the new car. GM's 480bhp LS3 V8 will be the 'base' unit, while the 6.2-litre supercharged LS9 V8, as seen in the recently launched Corvette ZR1, will provide customers with a 638bhp power option.

Factor in a target kerb weight of 1200kgs, and performance in either car will be prodigious, but Fenix estimates that the LS9-engined car should accelerate from 0-100mph in under seven seconds on its way to a top speed of around 200mph.

"Our first prototype is now in build and development will start in around one month's time," said Lee. "We'll be hot-weather testing the first prototype on the mountain roads around Port Elizabeth, South Africa, where the car will be manufactured. But I'm itching to get the car back to the UK where I can set it up on roads I know well."