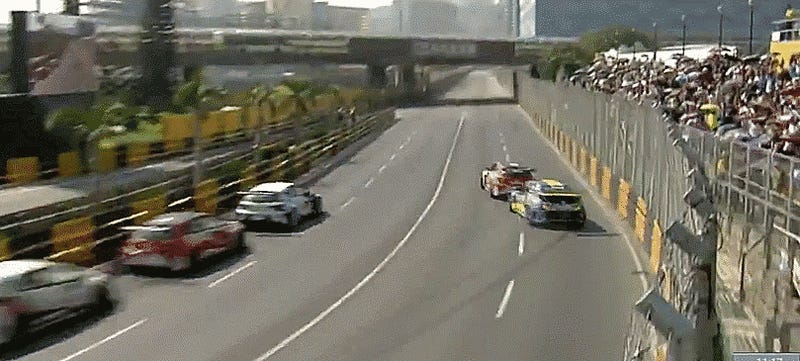 Here's the first corner of TCR International's Race 2 at the Macau Grand Prix. It's the kind of mega pile-up that only the combination of huevos grandes, a narrow circuit and little regard for intact bumpers can produce.

Eeeeesh.

According to TouringCarTimes, driver Jordi Gené (in the red car) was taken to the hospital with a broken rib following the pile-up.

Stewards fined Gené €1,000 for causing the incident that took out 11 cars at the very start of the second race. Race 1 winner Rob Huff was the first driver caught up in the chain of destruction and told TouringCarTimes that he agreed with the stewards' call:

I feel that there's a corner there, you've got to turn at some point, and he didn't seem to want to turn it. It was a shame as I think we could have had two wins today.
Some TCR drivers simply power through their injuries, though. Race and championship winner Stefano Comini has been driving with an injured leg for the last few races of the season. He appeared on the podium wearing a leg brace for the Macau Grand Prix.

...but that's nothing compared to getting out of the car with quite some help from a cane at Buriram:

Dude is a beast: fact.
---
Contact the author at stef.schrader@jalopnik.com. Also, go watch that entire Buriram TCR race because it's pretty entertaining, too.