The Alfa Romeo Giulia was supposed to herald the triumphant return of the legendary Italian brand to the American market. Unfortunately, Alfa's plan to shake up the luxury car game isn't working out.

The Giulia Quadrifoglio managed to grab headlines as a BMW M4 fighter with a Ferrari-derived turbocharged V6, but the lesser Giulia sedans haven't really managed to find much traction.
According to GoodCarBadCar.net, Alfa has only managed to sell 2,482 Giulia sedans (including the Quadrifoglio) in 2017. You could compare those numbers to the segment stalwarts like the Audi A4 at 15,379 units, BMW 3 Series at 22,584 units, or the Mercedes C-Class that sold 35,436 units, but that only paints half the picture.
Here's some much more depressing figures: Lexus sold 3,311 CT200h hatchbacks, a car the company is killing off in the American market. Acura managed to beat the Giulia by selling 3,958 ILX sedans—a vehicle that has one of the lowest customer satisfaction ratings in its segment. Finally, Cadillac was able to score 6,024 customers for the ATS, which is a good car, but a sales failure by industry standards.
G/O Media may get a commission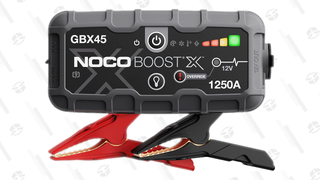 13% Off
Noco Boost X GBX75 Jump Starter
And it's certainly not a supply issue—there are plenty of Giulias for sale. According to Cars.com, there are currently, 2,209 listings nationwide.
If we compare that to the 3,867 new Audi A4s listings, the Alfa inventory isn't too far off.
Now, you could chalk up slow Giulia sales to American's shift away from sedans to crossovers. However, the Audi A4 and the Mercedes C-class both posted sales gains in 2016. Perhaps, American luxury car buyers prefer to stick with what they know, or maybe Afla still can't shake its reputation for making quirky (unreliable) cars even in 2017.
For a brand new car that by all accounts should be a hot seller, Alfa Romeo has now resorted to leaning heavily on incentives and rebates to convince customers to give it a chance. According to our friends at CarsDirect.com, Alfa is offering up to $2,750 in conquest cash nationwide and an additional $750 for California customers.
So if you happen to be in the market to buy or lease a new luxury sedan and want something different this could be a good opportunity to score a deal and put an Alfa in your driveway.