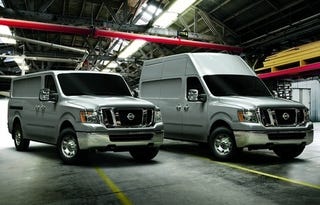 This is the Nissan NV, a trio of Titan-based vans available with a 4.0-liter V6 or 5.6-liter V8 and a freaky "High Roof" option. It comes in half-ton, 3/4-ton and full-ton flavors and will make the perfect taco truck.
There are two kinds of taco trucks. The first the monstrous moving restaurant on wheels with multiple service windows and huge roof vents. They're clean and fast and very professional setups and where all the upstanding taco-eaters go. Then there are the scummy, busted, Vandura-based taco trucks you see belching smoke and covered in enough grease to lube a Rockwell axle. Those are, of course, the better tacos, and that's a shame because the scuzzy look of the trucks keeps the normals away. We suspect if those operators are interested in giving their business a bump they'll take a look at this beast, the Nissan NV.
It's kind of ugly and pretty awkward, but dag-gummit it's the perfect size for a good small taco truck. Nissan's building it on a frame similar to the Titan but with thicker frame rails for the added loading (probably a good hint at the Titan's future) and it starts with the half-ton NV1500 which only comes with a normal height roof, then you can move up to the 3/4 ton NV2500 HD and full-ton NV3500 HD, each of which can be had with a freakishly tall roof high enough to stand upright in. Interior measurements are a 120.7 inches in the cargo floor, 70.3-inch floor width and up to 76.5 inches tall inside. The small-time mobile taqueria can be fitted with either a cheap 4.0-liter V6 or the more powerful 5.6-liter V8, both with a 5-speed automatics transmission, GPS and interior cladding to protect the walls from getting bashed up from stuff inside.
It's hard to ignore who Nissan seems to be targeting with this move as the company initially had an agreement with Dodge to build Ram-based Titans but the deal was killed. Rather than focus on the small commercial vehicle space occupied by the Ford Transit Connect, Nissan is going after the HD commercial truck space occupied by Dodge. Before the NV vans, the only vehicles like this were the Dodge Sprinter, which is crazy expensive, and regular vans with custom fitted roofs. Now Mercedes has reclaimed the Sprinter and Dodge is trying to keep commercial buyers interested in their HD commercial trucks.
Revenge is sweet, though perhaps not as sweet as a good hatch salsa. Now we need some tacos al pastor with cilantro and onions.