This is the Morning Shift, our one-stop daily roundup of all the auto news that's actually important — all in one place at 9:00 AM. Or, you could spend all day waiting for other sites to parcel it out to you one story at a time. Isn't your time more important?
---
1st Gear: Leaf Owners Say Arizona Heat Is Cooking Their Cars
CBS5-TV in Phoenix reports some more bad news concerning the Nissan Leaf. It says Leaf owners there report that the excessive summer heat is frying their cars' batteries. The Leaf, they say, has no cooling system for the batteries, and the heat is causing them to lose their juice. Some 400 Leafs have been sold in Arizona, and a group of owners contend their batteries are losing 30 percent of their charge. According to Nissan, that shouldn't happen until about seven years on the road. Word of the problem comes amid concern that GE Energy chargers might be harming Leafs' batteries.
Mark Perry, the director of product planning for Nissan, said the company doesn't consider the issue to be a problem. Nissan is investigating five complaints about lost charges, and all of them are in Arizona, he told the TV station. "We want to learn more about what's going on, but it's something we've just been made aware of, and we don't have any conclusions yet," Perry said. Owner Mason Convey said he hoped the company would acknowledge the issue and find a remedy, or "soon, I'm left with a very expensive paperweight in the garage."
G/O Media may get a commission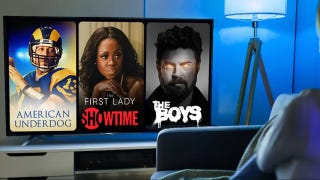 UNDER $1
99¢ Prime Video Channels
---
2nd Gear: Forget What You Think About Savings From Diesels
The Telegraph reports that the long-held impression of diesels as economical cars may not be correct. It cites a study by Which?, a British consumer publication, that says conventional gasoline-powered cars are actually cheaper to operate. This subject came up yesterday when we were all talking about hybrids, and whether they were actually cheaper to own. Which? said the premium charged for diesel-engine cars could take almost 14 years to make up through fuel savings. And, now that gas-powered cars are more fuel-efficient, the gap between them and diesels is swiftly closing.
The study is important because more than half the cars sold in Britain are now diesel powered, and diesels are in hot demand across Europe. Which? said a Ford Fiesta buyer would have to keep the diesel version for 7.6 years before it was cheaper to own than the gas-powered version, while a BMW 5-series owner would need 14 years to make up the difference. The fastest recovery came for owners of the VW Sharan, which would only need three years.
---
3rd Gear: Kia Plans To Call A Quoris
Automobile Magazine says Kia is calling its new luxury sedan the Quoris, in markets outside Korea. The car went on sale in May in Korea, where it's called the K9. Kia announced the Quoris overseas name on its Facebook page. Hyundai says the name is combination of "quality" and "core" but we're thinking of it as a mix of Quo and Vadis, since that's one of our favorite Deborah Kerr movies. It isn't saying when the car will get to the U.S., but Automobile thinks it will come here next year. The Quoris shares a lot with the Hyundai Genesis, and automotive expects it to get the V-6 and V-8 engines that are on Genesis.
But there will be some new features just for Quoris. Kia said Quoris will have the company's first adaptive cruise control system, as well as blind-spot and lane-departure warning systems, and an automatic braking feature. On top of that, the Quoris will have an Around View Monitor that uses four cameras to create a 360-degree view around the car. We kind of wish that Kia had stayed with K9, because it could have found a dancing dog to go along with its dancing hamsters. But maybe there will be a dancing Roman gladiator instead.
---
4th Gear: Germany Conquers France Yet Again
Bloomberg says Volkswagen is causing fits for Peugeot and other French automakers in France by offering financing deals at rates the struggling French can't match. Not only that, but VW is negotiating to open a showroom on the iconic Champs Elysee, pretty much thumbing its nose at them on their home turf. Bloomberg says French buyers pay as little as 1.9 percent annual interest on 10,000 euros ($12,280) in financing from Volkswagen. From Peugeot, the same loan would cost around 11.6 percent annually, according to the automaker's website. Renault says it charges 5.9 percent for that amount.
As Europe's most profitable automaker, VW can borrow at cheaper rates than the French companies, and pass the savings along to consumers. That is helping some VW dealers attract customers. But as we've seen in the past couple of world wars, the French are pretty good at finding help when it comes time to defend itself (see Peugeot's deal with GM) and too much German aggression might spark some buyers' sense of patriotism.
---
5th Gear: Honda Pumping Up Production In Indiana
The Detroit Free Press reports Honda will ramp up production at its newest American plant in Greensburg, Ind., and will invest $40 million more there. Honda will add 50,000 more vehicles annually there, starting next year, and hire 300 more people. Honda plans to build the Civic hybrid at Greensburg, which is about an hour west of Cincinnati, and a few hours from its big engineering and manufacturing operations in Marysville, Ohio. It's hard to believe, but in November, Honda will mark 30 years of car production in Marysville, where it still makes the Accord. Once the Civic hybrid goes into production in Greensburg, Honda will stop making it in Japan. Honda also is building a new plant in Mexico that will open in 2014.
---
6th Gear: GM Is Leaving The GM Building
Crain's New York reports that GM is finally moving out of the GM Building at 767 Fifth Avenue in Manhattan. GM, which leases three floors there, is negotiating to move a few blocks away to the Alliance Capital Building on Sixth Avenue, according to Crain's. GM sold the building in 1982, but it has kept its employees there, and most people still call it the GM Building, although it's probably better known now for the Apple store out front, and as the home of the CBS Early Show. The GM Building played a key role in New York's mid-century architectural history. Construction began in 1964 and was completed in 1968, which means it might show up in an episode of Man Men one of these days. The location across the street from Central Park, the Plaza Hotel and Bergdorf Goodman makes it one of the premier sites in the city.
A number of key moments in GM history have taken place there. In 1992, GM announced that Jack Smith would become its new CEO, and in 2009, it held a press conference upstairs after the company filed for its government-sponsored bankruptcy. Fritz Henderson, who was GM's CEO at the time, talked about walking by a big portrait of Alfred P. Sloan that morning, and wondered what Sloan would have thought. The night before GM filed for bankruptcy, I sat out on the plaza in front of the building with my New York Times colleague Michael de la Merced. We watched groups of lawyers come and go from the building, as a black SUV idled at the curb. It was pretty clear an era was ending, and now, as GM leaves the GM building, another one will end, too.
---
Reverse:
Ford Using Ping Pong Balls To Measure Cargo Space — Finds Out An Escape Will Hold 56,778 balls [Detroit News]
Detroit's Mayor Imposes Pay, Benefit Cuts [Reuters]
Ford Wants Congress To Crack Down On Patent Trolls [The Hill]
Iowa Dealer Gives Up On GM After 68 Years [Des Moines Register]
NASA Hopes Mars Rover Landing Will Be Grand And Profound [Christian Science Monitor]
American Airlines Mechanic Marks 70th Year On The Job [Associated Press]
---
Neutral
In keeping with our new discussion system, here's a place for you to own the floor. We're asking each day what you think about an issue that comes up in TMS.
Today, we'd like to hear whether you think about the Kia Quoris. Will the American market be open to a Kia luxury car? Or, is this going to be too much like the Genesis? What's your view on how Kia is evolving? Remember, there's no right answer or wrong answer. It's Neutral.
Show us your tips!
Got tips for our editors? Want to anonymously dish some dirt on a competitor? Know something about a secret car? Email us at tips@jalopnik.com.
Lost in our new layout?
Click here for the Opposite Lock or Tips forums. Want a more "blog-like" look? Click the button up top next to "Top Stories."
Get more Jalopnik!
Want even more Jalopnik? Want to know which of your friends read us? "Like" us on Facebook and follow us on Twitter.