We joined the hundreds of luminaries who have sampled the all-electric Nissan Leaf before it arrives in December. It's an impressive piece of software baked into an expensive compact car. Here's how the Leaf turns driving into an app.
Automakers have futzed with electricity as a source of power for over a century with little success, mainly because batteries simply can't hold as much energy per pound as gasoline. The Leaf and the rest of the new-age EVs tackle those problems with a cavalcade of technology that solve some issues while adding a few new ones.
This walkaround with Mark Perry, Nissan North America's product planning chief, gives you an idea of how different electric car ownership will be from a regular vehicle when the first few hundred Leafs hit the United States this year:
Even in its darkest days, Nissan earned a reputation for top-notch engineering, and with the Leaf, Nissan shows it can compile capable software as well as hardware. Owners can choose from three start-up sounds, similar to a desktop PC, which Perry said was necessary because testers couldn't tell when the vehicle was on. If owners forget to plug it in, the Leaf can email a reminder. And its navigation system can automatically find the nearest electric charging stations.
G/O Media may get a commission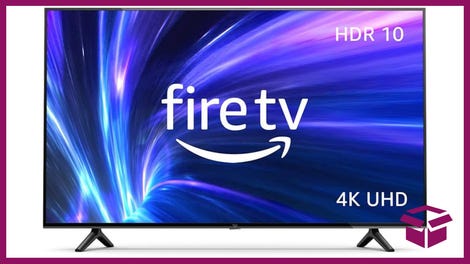 42% Off
Amazon Fire TV 50" 4K Smart TV
We didn't have a chance to drive the Leaf much beyond city traffic, but doing so wouldn't have revealed any hidden oasis of driving pleasure. Outside of a nice launch boost from the electric motor's instantly available 206 lb.-ft. of torque, the Leaf rides and handles like a generic compact car. Its 3,200-lb. curb weight provides some buffer from rough roads, but at higher speeds the 108-hp motivates with the polite restraint of a kindergarten teacher.
The Leaf's software also holds dominion on the road. The speedometer sports a little "tree" that grows the more economically a driver performs; eventually you can rack up a tiny grove of electric trees. Instead of a shifter, the Leaf has an oversize computer mouse to shift to drive or "Eco," the mode of choice for hypermilers. In Eco, the car boosts its regenerative braking and stiffens the accelerator pedal response; shifting into it at speed felt like the Leaf had been hugged by a polar bear.
To maintain a range of 80 to 110 miles, the Leaf will use more than 90% of the energy that its 24-kWh lithium-ion batteries can hold. That's a Muhammed Ali-worthy pummeling compared to the ginger 50% load that the Chevrolet Volt will limit its 16-kWh pack to. "We have 17 years of experience with these batteries," Perry said. "We're confident in them."
What's most jarring about driving the Leaf is just how much data it wants to give you. During our drive, we scrubbed several miles off the range, but the Leaf nudged us to note that shutting off the air conditioning would add eight miles back to the reserve. But should a Leaf driver attempt a Kramer-esque testing of its distance-to-empty measures, the car will coast to a stop with a modicum of power still left in its battery pack, the reserve meant to ensure battery conditioning capable of meeting its 8-year, 100,000-mile warranty.
The high-tech gleam — and a marketing push far greater than seemingly justified by a 20,000 vehicle per year sales goal — has generated Nissan 19,500 pre-orders for the Leaf, and Perry nearly snagged another during our drive from a Civic driver at a stoplight. Yet despite its technology, the $32,000 Leaf would lose a strict comparison of driving functions, costs and enjoyment to an $18,000 Nissan Sentra.
But the Leaf isn't about driving as an experience to savor. It's software with wheels, a rolling app meant to strictly oversee how much energy you're using on the road. For those who get satisfaction from such parsimony, and don't live in an apartment or other dwelling with no access to a 220-volt outdoor plug, the Leaf offers a compelling solution to the problem of driving.
If you don't see driving as a problem, the Leaf isn't for you.