If you're going to jump into a racing series, you want to do it right. Nothing is worse than a big-name company making a fool of themselves by spending all kinds of money on developing a car only for it to slap them in the face when they're running mid-pack at best. Nissan decided they didn't want to risk it. Nissan decided to buy their way into an already-founded Formula E team.
Yep. Nissan is making a big jump by being the first Japanese manufacturer to take part in FE. Jumping into a series five seasons deep means you're going to be a little behind the curve in terms of development—so they're not taking any risks. They're not going to be the midfield team.
Instead, they're going to buy stake in the e.dams team now that Alain Prost has decided to check out of the whole deal. It's not a bad place to start, honestly. Sébastien Buemi, who's been a member of e.dams since the series' inception in 2014, has been both a runner-up and a champion. This is the same team that won the first three Team Championships and holds the record for most wins and pole positions.
Not a bad deal. If you're looking to strong-arm your way into a championship win, I'd hedge some bets on e.dams being the way to go. After Renault, the team's previous previous partner, opted out of the series, it was the perfect opening. Nissan's corporate vice president, Roel de Vries, definitely agrees:
For Nissan's first Formula E experience, it makes sense to partner with e.dams and be able to draw on the organization's experience of winning races and championships.
The level of competition in Formula E will get even more intense for season five, with a series-mandated all-new car and powertrain. As part of our commitment to our partnership, Nissan has now purchased an ownership stake in the organization, and we're excited to work with Jean-Paul and his team.
G/O Media may get a commission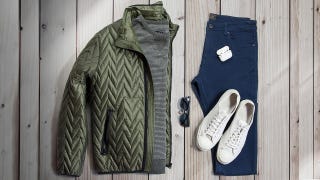 60% off
Jachs NY Fall Sale 60% Off
It's an interesting idea, especially with season 5 welcoming both BMW as a full manufacturer and the Gen 2 cars that won't require car swaps. The series is becoming more and more legitimate, and Nissan looks poised to make the absolute most of their entry.