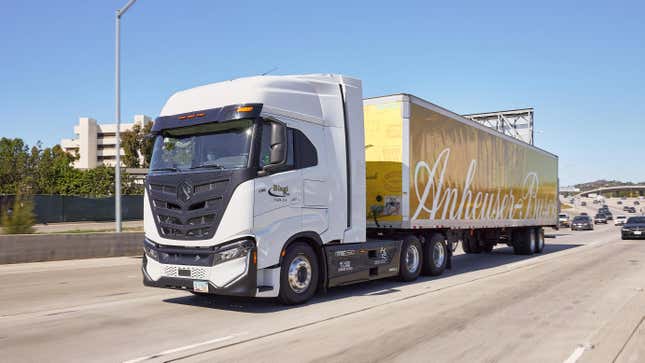 The Nikola TRE fuel cell electric vehicle, according to Nikola CEO Steve Girsky, is on track for delivery to dealers by the end of this month or early next month.
The electrified truck company announced on Thursday that its battery electric big rig wasn't going to be ready on schedule, due to an issue with the supply of the batteries. At the same time the hydrogen version of the TRE was said to be on schedule as it uses a different battery pack. This announcement sent Nikola stock soaring from 87 cents per share to $1.15 yesterday (Nikola stock peaked at $67 per share in June of 2020.)

The company has been embattled in recent months, following the August recall of hundreds of battery electric machines. A coolant leak in one of these trucks appears to have caused a battery fire, and caused the company to pause all production. That recall tanked share prices from a high of $3.39 per share.
Despite the issues having been limited to three incidents, and the company reacting quickly and appropriately to ensure it wouldn't happen again, it was seen as a portent of worse coming soon. Thankfully that doesn't appear to have been the case, and some of the rebound has begun for Nikola. Girsky said that all recall fixes will need to undergo a thorough validation test prior to widespread adoption of the change.
Despite these setbacks, Nikola still believes it is well ahead of the zero-emission competition in the Class 8 truck market. There isn't much competition in the market right now, as Tesla's semis have been delayed and Kenworth's hydrogen truck is still in the prototype phase. Volvo and Daimler have BEV Class 8 trucks on the market, but are still small production. Year to date Nikola says it has delivered 175 trucks to wholesale and retail customers, and prior to the recall was seeing a "surge in momentum."