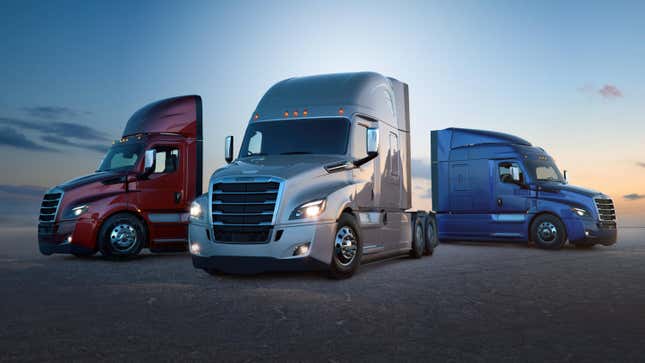 As semi-autonomous and driver safety assistance systems have become more prevalent in vehicles, so have instances of technical glitches. While usually nothing more than a hiccup, sometimes these glitches can endanger drivers. Now, AP reports that NHTSA is looking into yet another instance of phantom braking, and this time it's happening in Freightliner trucks
According to a bulletin posted by the agency, the issue surrounds the Freightliner Cascadia and its auto emergency braking system. An issue with the system can cause it to engage the brakes when no road hazard is present for no reason at all. So far the agency says that it's received 18 complaints of the issue ranging from light braking to full-on emergency stops.

Under the NHTSA's own testing to see whether or not they could duplicate the problem, a Cascadia came to a full emergency stop on its own when a steel trench plate was detected in the road. Daimler Trucks, the parent company for Frightliner, says that a steel trench plate doesn't represent a road hazard that would cause the system to engage.

While there have been fewer than 20 complaints regarding the issue, the NHTSA isn't skipping a beat when looking into just how many trucks may have this problem. The agency's probe affects over 250,000 Cascadias made from 2017 through 2022. Luckily no injuries or deaths have been reported over the issue.