Here's the new trailer for Transformers 2 we showed you yesterday, except now it's in high-resolution, upping the general ass-kickery. Check out the robogasmic goodness below. UPDATE: Now with 58-shot 1080P screen-cap gallery!
G/O Media may get a commission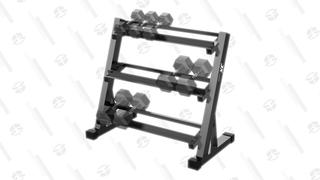 20% Off
JX Fitness Dumbbell Rack
Gains but tidy
Has a three-tier design to help store more weights more conveniently, can safely support up to 1000lbs of weight, which should be enough for most people, has a triangle base for stability, and also features anti-scratch feet which is great if you've built your own studio or workout in your garage.
The preview we were given yesterday certainly didn't do this new trailers cut any justice, but as you can see now, this newest incarnation of everybody's favorite Hasbro-toy line come-to-life is looking better and better everyday. Hell it's even making us feel smarter. If this doesn't sell you on the idea of padding Michael Bay's pockets then he might as well...well, he might as well just give us another Transformers movie after this one. So long as he gives us more of our favorite character. [via traileraddict, TFW2005]