This is The Morning Shift, our one-stop daily roundup of all the auto news that's actually important — all in one place every weekday morning. Or, you could spend all day waiting for other sites to parse it out to you one story at a time. Isn't your time more important?
I'll be shifting your morning today because most of our New York crew is out driving classic BMWs and Porsches. (If all the gears end up being titled "I Hate Everyone," that is why.) Let's get this party started.
1st Gear: Another Day, Another New GM Death Count
General Motors has maintained that 13 people died in crashes tied to the ignition switch defect, but federal regulators have said the death toll is likely higher than that.
This analysis by reporters at Reuters puts the toll from crashes in those recalled cars at 74. Other news organizations and safety watchdogs have come up with their own numbers. The nonprofit Center For Auto Safety has had the number at more than 300.
G/O Media may get a commission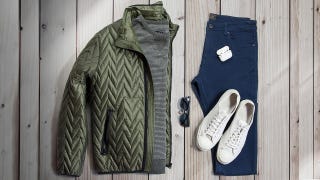 60% off
Jachs NY Fall Sale 60% Off
Here's how Reuters came to their number:
Reuters searched the Fatality Analysis Reporting System (FARS), a national database of crash information submitted by local law-enforcement agencies, for single-car frontal collisions where no front air bags deployed and the driver or front-seat passenger was killed.
The Saturn Ion is especially singled out here, with Reuters saying the frequency of such accidents in that car was nearly six times that of the Toyota Corolla and twice that of the Ford Focus.
Now here's the kicker, and why I think this should be taken with a grain of salt:
It is not clear how many of the deadly accidents identified by Reuters involved defective ignition switches, because crash reports typically do not include that data. That leaves open the possibility that air bags may have failed to deploy in some of the GM crashes for reasons other than faulty switches.
Considering all of the variables involved with these fatalities, and the dearth of data, it's possible we'll never know the exact death toll from the ignition switch problem alone.
2nd Gear: Volkswagen Aims To SUV The Shit Out Of Toyota
Everyone knows that the most glaring hole in Volkswagen's lineup is SUVs. That segment is a cash cow, especially in America but increasingly in other parts of the world, and the relatively small and expensive Touareg and Tiguan aren't making the cut.
How will VW fix this? By maybe TRIPLING their SUV count, reports Bloomberg. Six Volkswagen SUVs instead of just two!
The Tiguan will be updated as a lighter vehicle in 2015 to help lower fuel consumption, and VW is also developing a coupe version and longer variant of the model, the people said. VW may also offer a subcompact crossover, which has characteristics of an SUV and traditional car, choosing between the boxier Taigun and coupe-like T-Roc prototypes displayed at recent auto shows, the people said.
SUV all the things, Volkswagen!
3rd Gear: And Speaking Of Volkswagen SUVs...
Where are they gonna build the CrossBlue seven-seat SUV, anyway? Tennessee, Mexico or somewhere else? Reuters says there's a big fight over that and it has to do with incentives:
Last week, the state of Tennessee reopened talks with VW on tax breaks and infrastructure to lure the firm to build a mid-sized crossover at its Chattanooga plant, after a pitch by Mexican authorities, sources told Reuters on Monday.

Level-pegging between Chattanooga and Mexico means it could take at least until the end of June for VW to pick a production venue, either its $1 billion Chattanooga plant or a site in Mexico, two sources familiar with the matter said.
I also wonder what role the unionization fight in Tennessee is playing in this decision.
4th Gear: Is Renault-Nissan's Electric Future Dimming?
Everybody wants to take down Toyota. Automotive News reports Nissan-Renault CEO Carlos Ghosn is "counting on a rebound at Renault" to catch up to Toyota, Volkswagen and GM in terms of global sales.
But they may be faltering on EVs despite Ghosn's big bet on that technology:
Exane BNP Paribas's Freiha believes the Renault Zoe subcompact, which was supposed to be the brand's breakthrough, big-selling EV, will continue to struggle because it is only sold in Europe. The BMW i3 has more potential for sales growth because it is sold in the United States and is also aimed at premium buyers who are the biggest EV customers, he said.

Renault installed capacity at its Flins, France, plant to build 150,000 Zoe models annually but production last year was 11,130 units, according to research firm Inovev, which forecasts Zoe sales to peak at 50,000 units by 2016. Freiha said Renault-Nissan's EV push came too soon and the alliance has lost its edge in EV technology because rivals have caught up.
Maybe the Leaf can't do it alone.
5th Gear: Chrysler Great, GM Good, Ford Flat
Last month's sales looked pretty good for Chrysler, the Detroit News reports, with numbers up 16.7 percent for the best May since 2007.
Analysts expect GM to look good to but Ford sales to be "flat." Blame the all-new 2015 Ford F-150 for that:
Ford executives say the Dearborn company's full-size trucks sales are expected to be down by single-digit percentages over the same month a year ago, but that the F-Series will have a strong month. John Felice, vice president of U.S. marketing, sales and service for Ford, said the automaker could have sold more pickups if it had boosted incentives; but it is building inventory on trucks to get it through 13 weeks of production downtime at plants that build trucks as transitions to the new 2015 Ford F-150 late this year.
One has to assume at least some buyers might be holding out for the new truck.
Reverse: Suck It, Du Pont
On this day in 1957, the U.S. Supreme Court rules that the chemical company E. I. Du Pont de Nemours & Co. must give up its large stock interest in the Detroit-based automobile company General Motors on the grounds that it constituted a monopoly, or a concentration of power that reduced competition or otherwise interfered with trade.
[HISTORY]
Neutral: Will we ever know how many people really died from the ignition switch failure?
And if so, how?