The Nissan Frontier is well-ripe for a redesign and the company says it's finally coming next year. I wouldn't expect Murano levels of futurism, but Nissan planning to prioritize styling while staying close to the current truck's dimensions. Since the Xterra sits on the same F-Platform, it's logical to assume the SUV will be reshaped soon as well.
Nissan's global marketing guy Andy Palmer told Australia's Drive; "one-ton pickups are fairly generic in terms of their overall dimensions. I think it's about what you deliver on fuel consumption, what you deliver on styling— these are the key differentiators for that kind of pickup market."
So the next Frontier will stay small, look slick, and get good fuel economy. Sounds like they're on the right track.
With all the diesel teasers and spy shots we've seen at this point I think we're all getting pretty antsy about Nissan's future in trucks. The offerings from Ford, Ram, and GM are all stronger than ever and while Toyota is quietly crapping out the same Tundras, Tacomas, and 4Runners on the assumption that their badge will sell itself Nissan has been jumping up and down waving a Cummins flag for what feels like forever.
They've done a pretty good job delivering on their promises of wild styling with their SUVs, so I'll stay faithful for now. According to the Aussies, Nissan is going to tell us more about their small truck "in a few weeks," so stay tuned.
G/O Media may get a commission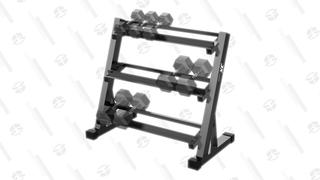 20% Off
JX Fitness Dumbbell Rack
Gains but tidy
Has a three-tier design to help store more weights more conveniently, can safely support up to 1000lbs of weight, which should be enough for most people, has a triangle base for stability, and also features anti-scratch feet which is great if you've built your own studio or workout in your garage.
Whether the new Frontier's SUV accompaniment would be the next Xterra or another vehicle altogether remains to be seen. I suppose there's also the possibility that Nissan might castrate the Xterra into a monocoque as they did with the Pathfinder. But that would destroy the last truly off-road oriented SUV you can buy in America with a manual transmission that's not a Wrangler, and such an idea is just too much for my heart to bear.