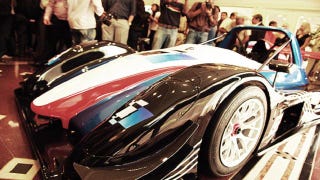 How do you develop a nation's motorsports culture? Let a bunch of promising drivers race each other in Radical SR3s. How do you promote such a backwater series? Let a bunch of old F1 drivers race with them — for a total assload of cash.
In an effort to help India become a more serious player in auto racing, Bengaluru- based Machdar Motorsports has established the i1 Super Series. Nine teams intended to represent nine cities will compete in five races.
The three-driver teams will each feature one promising Indian talent, one Indian driver with significant credentials, and one internationally-known driver. Familiar names that have signed on for the series include Heinz-Harald Frentzen, Jacques Villeneuve, Jean Alesi, Giancarlo Fisichella, and Mika Salo.
The chance to gain exposure and credibility is reason enough for the eighteen Indian drivers to be involved. The motivation for the more experienced hands? Probably the $2 million check for the series champ.
The i1 race car is a standard Radical SR3: 1500cc 260hp Suzuki engine, six-speed sequential gearbox, about 1250 lbs. The SR3 may not be the kind of hypertech screamer that Frentzen and Villeneuve piloted in their F1 days, but it's still a serious track weapon and a viable stepping stone towards more prominent drives for the aspirants.
The first race is January 22nd. Motorcycle and hot-hatch race series are also in the works. Retired racers with time on their hands should contact their agents.