Suzuki Motor Corporation will display several concept exhibits at the 43rd Tokyo Motor Show 2013 (organised by the Japan Automobile Manufacturers Association) which will open to the public at Tokyo's Big Sight between November 23 and December 1, 2013.
The theme of the Suzuki booth at this year's show is: "Let's Create a Brand New Story". Suzuki recognises that the daily life of each and every customer is a story, and by adding something to each of those stories, the desire to create different, brand new ideas together with our customers, is put into the theme.
Based on the Suzuki slogan of "Small Cars for a Big Future", the concept cars exhibited at the show offer cars that are currently in demand, cars that should be available in the near future, and cars for the more distant future. In order to build a Brand New Story that will add excitement and passion to the daily lives of customers around the world, the cars are packed with Suzuki's attractive products and unique leading-edge technology.
In addition, the design of the Suzuki booth features an S-shaped border that depicts lightness and softness to an open construction that expresses a bright future. A wide panoramic screen measuring 3.6m x 40m is set at the back of the stage. Introduction videos of the concept cars will be streamed across the main stage to show the Brand New Story of Suzuki and its customers in a beautiful image, all of which were produced by movie director Shunji Iwai.
Main Exhibits
Crosshiker: a compact crossover that fuses fresh new styling with a dynamic weight reduction and highly-efficient power train
G/O Media may get a commission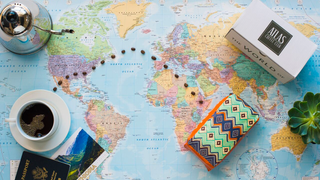 First Bag Free
Atlas Coffee Club - Free Coffee
Explore global coffee
With each bag, Atlas includes details on the coffee's tasting notes and a postcard about the region and its coffee history. And when you subscribe, you have options to tailor frequency, grind size, and roast preference of your beans, so you'll always be brewing the perfect cup.
The Crosshiker is a compact crossover, which is an alternative offer of the G70, the concept car packed with lightweight and fuel-efficient technologies that was exhibited at the 2011 Tokyo Motor Show. It uses the next-generation lightweight platform adopted for the G70.
It features a size of a compact car while weighing just 810kg, the weight of a minicar. With a newly developed 1-litre 3-cylinder engine, it strikes a good balance between power and environmental performance.
The Crosshiker inherited the G70 concept "Eco-friendly on the inside while having a design with personality that would evoke passion in users", while adopting more exciting styling and a design befitting a crossover tailored to adults keeping a playful mind.
X-LANDER: a real 4WD hybrid with a distinctive personality
Suzuki wants drivers to use this car in the city as well as sometimes go out to play in the field. This concept model is packed with such intentions.
Based on the Jimny, Suzuki's world-class compact 4WD vehicle, the X-LANDER is equipped with a 1.3L engine and a newly developed automatically controlled manual transmission.
It incorporates a compact lightweight hybrid system equipped with a highly-efficient motor built onto a 4WD system, achieving both up-to-date environmental performance and excellent running performance.
The vehicle design is loaded with full of playful touches so that the vehicle looks like a fusion of off-road power and mechanical precision.
HUSTLER: the challenge to a new genre, a crossover that suits an active lifestyle
This is a crossover type concept model of a new-genre minicar that suits the active lifestyle of people who love the nature, love the outdoors, and love sports.
This is a stylish yet practical design with plenty of SUV touches, combining an exterior that looks like it belongs in the outdoors with a roomy, comfortable, and useful interior.
HUSTLER Coupe: the challenge to a new genre of minicar, a crossover coupe with a beautiful silhouette
This is a concept model that adds further design variation of a coupe silhouette to the reference exhibit HUSTLER.
iV-4: a compact SUV with a powerful design that carries on the Suzuki SUV image
The iV-4 is a compact SUV concept model newly offered by Suzuki, who has earned much praise for its Jimny, Grand Vitara, and other compact SUVs.
Its concept "Grab Your Field" has the meaning to let users pursue their own pastimes and lifestyles.
This model is equipped with Suzuki's next-generation 4WD system ALLGRIP and will be launched in Europe in 2015.
Source: Suzuki